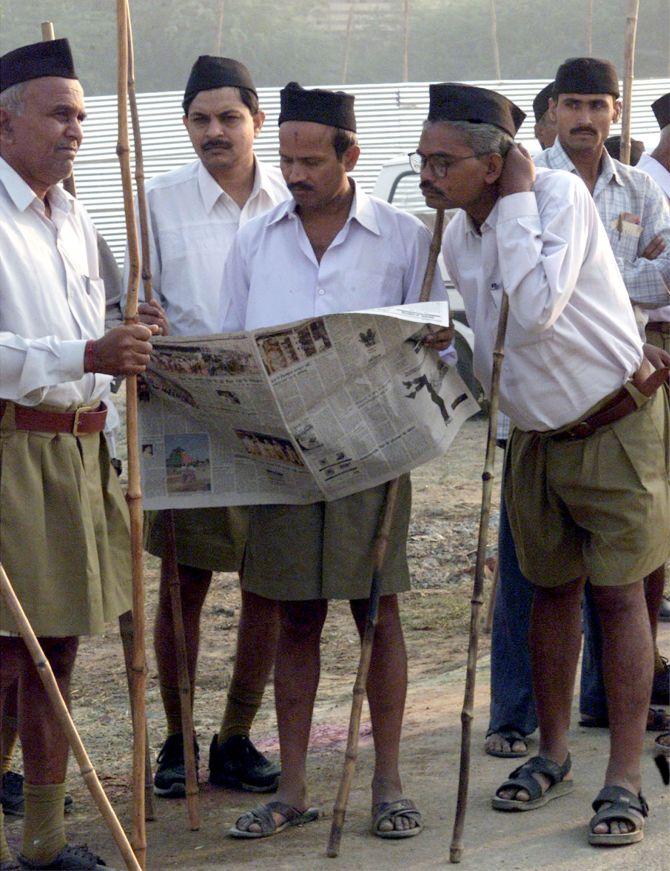 Till 2000, K N Govindacharya, former Rashtriya Swayamsevak Sangh pracharak, was considered the Bharatiya Janata Party's chief ideologue. Govindacharya, who now heads the Rashtriya Swabhiman Andolan, which opposes anti-people policies of governments, tells Sahil Makkar and Archis Mohan the Narendra Modi-led government is still in the election mode.

Edited excerpts:
How do you see the first three months of the Narenda Modi government?
I have decided not to make any assessment of this government before it completes six months. It will be premature to analyse it right now. And, I think there was nothing in the Budget to read; it was an extension of the Interim Budget. We will only get to know the government's direction and intentions in the next Budget. It appears things are still happening in the election mode and we are yet to come out of that.
There is fear such a huge mandate has weakened the Opposition and there are no effective checks and balances.
We should not make any hurried assessments. Sometimes, a person, especially in the election mode, responds to things in a holistic manner. So, it is not right to take such responses on face value. There is still time before we start to read between the lines. Right now, it is two steps forward, two steps back, as is the case with Pakistan. So, it is too early to judge.
What is the right time to judge?
Six months are required to understand the style of functioning. Right now, we are seeing some intentions and some favourable sound bites. The right noises are being made at the right time. But the question is whether these right noises are linked to a delivery mechanism. One shouldn't doubt the intent in such a short time.
When can society and the RSS start seeing delivery?
I hold no brief for the RSS. I am thinking with the perspective of society. People had awaited the August 15 speech with much anticipation. But an overall critique is there wasn't much light in it. There was much sound, because it was delivered as if (the leadership) was still in the election mode.
What do you think of Narendra Modi's style of functioning?
Everyone has plus and minuses. One should not hurry in judging him because people learn as they move forward. Others might afford to jump to hasty conclusions. But neither have I wanted to, nor should I pass a judgement this soon.
There is fear among certain sections of society after the recent incidents of violence. Do you think people should be worried?
If incidents are right, what more could be said? But we really need to see if these incidents are true. Sometimes, we become unfair; sometimes, hasty conclusions are drawn.
The Ram temple issue has always been a bone of contention. How do you see this problem in today's context?
As far as I know, the temple issue was on the verge of being resolved during the respective governments of V P Singh, Chandra Shekhar and Atal Bihari Vajpayee. But there were many a slip between the cup and the lips. So many things keep taking place below the surface. So, sometimes, public posturing is different. I don't see this as an insurmountable issue.
You are from the RSS. What are your views on relations between the RSS and the BJP government?
The Sangh's role has always been that of a guide. Its leadership doesn't harbour any grudge if their suggestions are not acknowledged or accepted. They aren't the kind of people who will topple the apple cart. The Sangh understands too close proximity to power could potentially skew its style of functioning, texture and orientation. So, the RSS keeps its focus on its volunteers and conducting shakhas.

Even during the Atal Bihari Vajpayee regime, there were differences, but these never culminated into any sort of a confrontation.
The Lok Sabha election win for the BJP wasn't without the active and full support of the Sangh.
The victory is not only because of the RSS. What (RSS Sarsanghachalak) Mohanrao (Bhagwat) said (in Cuttack - that the election victory wasn't because of any individual or organisation) was not in the context of Narendra Modi. He spoke in generalities.

What he could have said was three factors were required to effect a change -- ripening of the situation, a well spread cadre to disseminate the information of a mass movement and to sustain it in adversarial circumstances, and credible leadership. Mohanrao wanted to say when these three factors came together, change took place. So, the perception of a credible leadership, the presence of cadre on the ground and strong anti-incumbency against the UPA (United Progressive Alliance) government resulted in a decisive victory.
The RSS must be trying to ensure its agenda is implemented through this government.
The policy of the RSS is to watch for two years, understand the limitations, give suggestions, appreciate if something is good or show its concern. The Sangh follows the principal of practical idealism, which is to understand the problems at hand and keep a vision for the future.
It appears the RSS has become more active after the formation of the government. Mohanrao Bhagwat's statement regarding Hindu nation received a lot of attention in the media.
There is no change. The only difference is earlier, news related to the RSS would struggle to find a single column in newspapers; now, we have reached a situation of carpet coverage for all it says. The idea and agenda remain the same. But now, these are being projected and amplified in a different way.
Do you think it is amplified deliberately?
In the Indian media, there is sensationalism and one-upmanship in the era of hard competition. Truth, objectivity and comprehensiveness suffer because of this. Non-issues are highlighted. I view Bhagwat's idea of Hindu nation differently.

To my mind, the Hindu nation is an existential notion. Personally, I believe those who talk about creating a Hindu nation don't understand the concept. There is no need, situation and even scope for creating a Hindu nation. This region is geo-culturally a Hindu nation, and has been so for centuries.

The mistake we make is attempting to see it as a geopolitical entity.
How do perceive the recent structural changes in the BJP?
For the past 10 years, the political party, as an instrument, is increasingly becoming inconsequential. Political parties have become nothing but groups of election candidates vying for power. This is across the broad and in all parties.
You were an intellectual guide to the Anna Hazare-Arvind Kejriwal-led anti-corruption movement. Do you think there is a future for Kejriwal and groups such as his in politics?
Not only have people awakened to a great extent, they also want change. People will evaluate ruthlessly, and want immediate results. And, if you don't deliver immediately, the disillusionment will be faster. I foresee the next year, 2015, will see lots of upheaval and movements of the people.