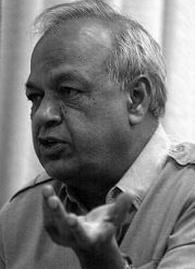 Stephen P Cohen pays tribute to strategic expert B Raman, who passed away recently.
Three weeks ago, Bahukutumbi Raman lost his long battle with cancer -- his 'live-in companion', as he called it in an article last year -- and he will be missed.
Raman was one of the original members of the Research and Analysis Wing, India's external intelligence agency, where he served for 26 years and built up a reputation as an authority on India's two most important neighbours: China and Pakistan. He was one of a group of very distinguished South Indians who had gravitated to New Delhi for public service of the highest order -- K Subrahmanyam of the Indian Administrative Service and General K Sundarji of the Indian Army were two others who come to mind. They contributed much to Indian foreign and security policy -- and to shaping how India interacted with the world. They deserve a collective biography, and in it some scholar should examine the process by which India creates a national elite out of the best and brightest from its various regions.
We first met late in Raman's career, after he had left RAW. Our initial contacts, in Chennai, were cautious and skeptical on both sides; he, after all, had been a spy, and I was, to him, an American scholar tinged with pro-Pakistani sentiments, probably a double burden for him.
We also disagreed on how the US constructed its India-Pakistan policy. I wish he were alive today to review my latest book, Shooting for a Century, on that very subject. Yet, we remained in contact via additional meetings and an extensive email correspondence once he began his superb blog -- sealing a wary friendship based on a desire to comprehend and deal with difficult political concerns and the understanding that our different vantage points and perspectives did not always lead to the same conclusion.
I know little of Raman's government career other than that people who I trusted praised his past work. However, I became a steady reader of his blog and articles (including several on the condition of RAW and Indian intelligence itself), and recommended them to students and friends as essential for an understanding of first-rate Indian thinking on foreign affairs and on Pakistan in particular. Our friendship flourished, and we remained in contact until just a month before his death, when there was an alarming absence of posts and emails.
Raman's writing was characterised by a hardnosed realist conception of India's strategic interests, and he was never afraid to criticise the policies of Pakistan, China, the United States, or India itself when they threatened those interests. For instance, he was known during his time at RAW for his difficult relationship with the United States, which he saw as unfairly favouring Pakistan over India; in fact, his autobiography begins with an account of his anger at the US State Department's unwillingness to label Pakistan as a state sponsor of terror in India on the basis of claims of Indian intelligence operations in Pakistan.
I was long since out of the government at that time, and reading his account, I understood his anger, but also the dilemma facing American policy makers, who were trying to balance important interests embedded in our relationship with both countries, an almost impossible task when India-Pakistan conflicts came to the fore.
In 2009, when casting about for an informed Indian view of Pakistan, I decided to invite Raman to write an essay for a book I edited, The Future of Pakistan. He took a typically pessimistic view, attacking the Pakistani army for its self-destructive, destabilising support for 'religious extremism' and its use of Islamist militants to advance its political goals, but he was not the hawk that his tone sometimes suggested.
In his essay, he also wrote that it was very important to reduce India-Pakistan tension by helping Pakistan "rid itself of its fears" of India, which were seen by Indians as "imaginary." And while he often criticised the United States, he also declared that he loved America and its people, and his attitude toward the US mellowed substantially as India-U.S. relations improved.
My deep personal regret in this venture was that, due to his illness, he could not travel to the site where we held the workshop that led to the book, as he would have enjoyed the frank discussions that we all had (Europeans, Americans, Pakistanis, and Indians) about Pakistan's future and South Asia's direction.
B Raman's lifelong stream of foreign policy memos, written in his signature concise, numbered paragraphs, may have finally come to a close, but his immense knowledge and experience, sharp strategic mind, and dedication to his work will not soon be forgotten, and will be a model for cool analysis as well as an important source about our time for generations to come.