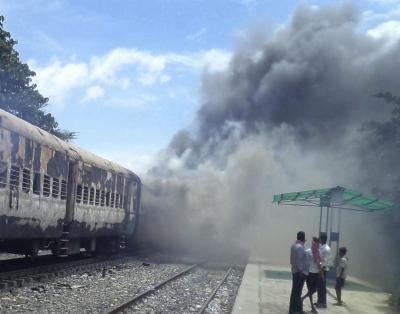 For Indian Railways safety is not necessarily a systemic issue but something it attends to only on a case-by-case basis. If accidents were not to happen, the thought of safety would not arise, says Mahesh Vijapurkar
Adhir Ranjan Chowdhury, minister of state for railways, has disputed the number of pilgrims dead in the mind-numbing accident at Bihar's Dhamara Ghat station on Monday; he has held the state government responsible for not alerting it to the size of pilgrims who may travel that day; and has announced that new platforms and foot over-bridges would be built and a better public address system put in place.
This is so utterly a jaw-dropper. It is easy to make mincemeat of his utterances because he also added that with the Centre-provided funds under the Prime Minister's Grameen Sadak Yojana, Bihar could have built a road network instead of "where the railways is the only mode of transport". In short, according to him, the Indian Railways was not culpable in the tragedy at all.
Here's a rebuttal. One, it is not the number of dead that is the matter. Even if only one person were to die, it should be a matter of serious concern when that "only mode" is State-owned. A higher toll does not necessarily add to the gravity of poor management except that they add to the worsening statistics.
Two, being the "only mode" of transport, the transporter who is increasingly pretending to be a commercially-run corporate entity ought to know the demands on the system, especially since these are festivities on the calendar. These are not one-off events which can surprise the railways.
Three, whether the Bihar administration, held as a model of good governance, builds the roads or not is not the railway's concern, unless, of course, unable to cope with the press of passengers, the ministry, of which he is the second nodal point after the full-fledged minister, had discussed this specific issue.
Four, the railways, in business for 160 years almost to the day when the accident took place, cannot now suddenly spring up with the clarity that the place needed new platforms, foot over-bridges and a better public address system. His ministry even tried to pass it off as an 'incident', which meant the victims needn't be compensated; only if it was an accident, there is a liability.
Even to a lay ear, these utterances, stupid as they are, reveal how the transporter was passing the buck and shirking its responsibility. The points made by Chowdhury actually tantamount to an admission that the system over which he is a key leader has been lax in the very specific areas he touched upon.
To Indian Railways, safety is not necessarily a systemic issue but something it attends to on a case-by-case basis. If accidents were not to happen -- and I concede this is a macabre thought -- the thought of safety would not arise. Otherwise, it would be happy to plod along with its unsafe bridges, unmanned railway crossings, poorly maintained coaches et al as if all was well.
To a network which criss-crosses the country, even such simple matters as eliminating the death traps called unmanned level crossings is a slow work in progress. Recently, it was reported that the country has 12,582 of them (amounting 40 per cent of all crossings), and eliminating 10,797 of them by 2017 was an 'ambitious' target.
To add to this, we have the railway minister, Mallikarjun Kharge, saying that if the state governments shared the costs, by chipping in with 50 per cent of the estimates, his organisation would even build bridges. It is as if once the railways gets the right of way to plough through a region, everything else, including safety, becomes someone else's responsibility.
Indian Railways, apart from doling out top posts allegedly for phenomenal bribes, has a bigger responsibility to the nation, of running a safe system. Had it been a private operator, would the government have been so lax about the standards of operations? Simply because it is government-owned means it can get away with anything?
But then, when clean toilets are not a priority, smelly blankets and sheets given to passengers travelling with valid reservations are not a concern, and when railway stations can stink of human excreta and urine, and the disabled cannot access coaches easily, much less the platforms beyond the first, safety seems such a tall order.
Apart from financial implications, it is a mindset issue.
That's why one cannot buy Chowdhury's and Kharge's absurd views.