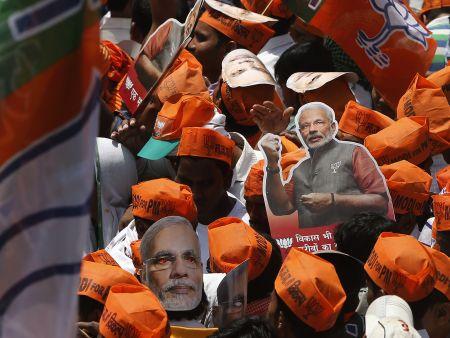 Keeping their eyes on the assembly elections in Karnataka, Andhra Pradesh, Tamil Nadu and Kerala, the BJP has been trying to win favour with the southern regional parties, observes R Rajagopalan
The one thing that can be learnt from this ongoing session of Parliament is that southern regional parties will play a crucial role in deciding the future of politics, especially the Bharatiya Janata Party.
The sessions in Parliament show that the BJP has been gravitating towards the southern regional parties such as the All India Anna Dravida Munnetra Kazhagam, the Telugu Desam Party, the YSR Congress and the Telangana Rashtra Samithi keeping in mind the upcoming state assembly elections in Karnataka, Kerala, Andhra Pradesh and Tamil Nadu.
BJP's move of favouring the southern parties is further reflected in the government's choice of appointing AIADMK leader M Thambidurai for the post of deputy Speaker of the Lok Sabha.
And for those who may be wondering why the BJP is trying to find favour with the regional parties, one only has to look at the numbers. There are 900 assembly constituencies in the southern states, and 130 Lok Sabha seats. If the BJP were to win a majority of these, they would be able to complete their rout of the Congress and also realise their dream of a 'Congress mukt dakshin Bharat (Congress-free south India).
Firstly, Prime Minister Narendra Modi's 54 mega rallies in south India during the elections have helped the southern parties warm up to the PM and in extension, his party -- the BJP.
Furthermore, the role the Congress played in the bifurcation of Andhra Pradesh has angered many people, a move that the BJP used to its advantage. Also, during the 2014 polls, the dominant castes in south Indian politics deserted the Congress, another boon to the regional parties and in turn a boost to the BJP.
And with Amit Shah's elevation as the party's president, the BJP is hoping to make inroads into the south and with the help of regional parties win the upcoming state polls.
The BJP is concentrating on Karnataka which has its assembly polls in 2018. The BJP also hopes to make inroads in Tamil Nadu where voters are dejected with the governments of Jayalalithaa and Karunanidhi. However, some say that the BJP could tie up with Amma and the AIADMK as the two --Modi and Jayalalithaa are working well -- and both follow a similar style of working.
R Rajagopalan is a senior journalist and a commentator on southern politics
Image: Supporters of Bharatiya Janata Party during an election rally in Varanasi. Photograph: Adnan Abidi/Reuters