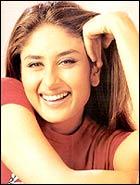 Would you like to be part of Kareena Kapoor's family?
If your answer is yes, all you need to do is take one simple step:
Produce a film with her.
Really. Just listen to the pretty actress.
When we asked her why she did LoC-Kargil where she had an insignificant role, her reply was that the producer-director of the film, J P Dutta, was like a family member.
Now, doing her latest film with Subhash Ghai, 36, China Town, her stance is the same: "Subhashji is like family."
"Mukta Arts is just like my grandfather Raj Kapoor's film RK films. I will do anything for him. He is like my family member," she said.
It does not end here. Recently, we asked her if she was open to do South Indian films.
No prizes for guessing her answer:
"Yes, I will do the film, only it is made by Mani Ratnam. Because he is like a family member."
...
Most of us are under the impression that Shah Rukh Khan is the industry's biggest star, but this is, apparently, a misconception.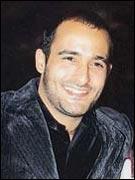 According to our estimate, it is Akshaye Khanna.
Why, you ask?
He turned up three hours late for the launch of his latest film, 36, China Town.
He made the film's producer Subhash Ghai fume, and also kept his co-stars Kareena Kapoor, Shahid Kapur and Payal Rohatgi waiting not-so-patiently.
Our superstar reached when the function was almost over.
He had no word of apology either. Well, after one big hit with Hulchul, it looks like this star is sure he has made it.
...
Suddenly, everyone's calling Abhishek Bachchan a star, after the success of Dhoom and Bunty Aur Babli.
Now, we can understand Dhoom was a hit, but one cannot undermine John Abraham's key role, or even director Sanjay Ghadvi,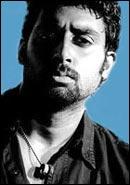 who did a good job.
As far as Bunty Aur Babli is concerned, we are a little confused.
On the fourth day of its release, tickets were still available, though everyone in town claims the film is the year's biggest hit!
The rumours doing the rounds is that this is the last straw to save Abhishek's career, after he gave 15 straight flops.
We really feel sad for those yesteryear star sons who did not get as many opportunities as Aby's baby.
Rajendra Kumar's son Kumar Gaurav; Biswajeet's son Prosenjit (he fared poorly in Hindi cinema but is now a superstar in Bengali Cinema); Raj Kumar's son Puru Raj Kumar; Manoj Kumar's son Kunal Goswami; and Dev Anand's son, Suniel Anand.
...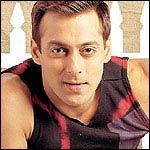 Guess how many people watched both these Salman Khan films: Dil Ne Jise Apna Kaha and Hello Brother?
Only one person.
Criticising his own films, Salman told us, "I found out that no one went to the theatres to watch these films, but I was desperate to see the films."
"So," explained Salman, "I told my local cable operator to air these films so that I could watch them."
"And I feel I was the only person who saw these films on cable!" he quipped.
Sab ki leta hai is a weekly column taking on the Hindi film industry.