Screeching tires, dodging bullets, machine guns, fast cars, pretty girls, tough guys, car crashes, blood splashes, rugged prisoners, friends, family, revenge and Hollywood's pet chauffeur -- Jason Statham, makes for an adrenaline pumping, deep-fried fast food cinema.
Jumpstart to 2012, the American economy has collapsed, and prisons have been adopted by corporations. Supervised by the woodenly Hennessey (Joan Allen), the prison -- Terminal Island -- becomes a playground for the jail authorities and 'Death Race' a chance for freedom.
This gory remake of the classic 1975 Death Race 2000 is simply an hour and a half of non-stop video-gaming on celluloid. Fast-paced enough to keep anyone's eye on the screen and noisy enough to keep you awake Death Race in pale fonts clearly aims at the "modern audience who gets bored soon".  The future is here with the birth of "Death Race" with pay-per-view broadcasts of this lethal game (subscribe to stage I for $ 99 and an all three stages for the low price of $ 250) where inmates participate in an ultimate auto-carnage to battle it out.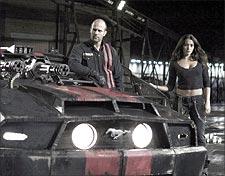 Enter our new-age gladiator -- Jason Statham. The lead in Death Race, who's making a name for himself as a humorously sarcastic action hero, plays Jensen Ames, a man wrongly accused of his his wife's death. He is chosen to substitute a dead Frankenstein, the competition's legendary star performer (who had always adorned a mask) since Jensen is adept at handling the wheel. He is given a shot at freedom and cuts a deal with Hennessey. Her offer: Replace the legendary Frankenstein (Hence, the mask gimmick), win the three-day match, and he goes free. Else he dies.
Not before showing some inmate enmity, Jensen is introduced to his pit crew led by Coach (Ian McShane), and given the keys to an embellished, armour-plated, heavily-armed Mustang, coupled with some eye-candy in the form of Jensen's navigator Case (Natalie Martinez). With plenty of heavy metal music and tacky offensive weapons, defensive gadgets and deadly obstacles the film is off to a roaring start and continues hollering till the end credits roll.
In one line, the film is a shot of testosterone, as the deafening roar of the cars is only drowned by the jingle-jangle beats, earsplitting guns and slapdash ammo.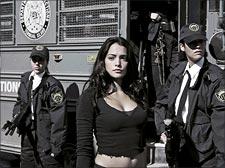 With the legacy of car flicks like Transporters, The Italian Job and Crank, Statham must be feeling monotonously tired though his muscles show better definition and variety than his loosely etched character and the constancy in his tone. A very standard cast including Tyrese Gibson as Machine Gun Joe adds a petty fast and furious flavour, doing no better than flaring his nostrils and mouthing half-liners at his own hoodlum pace.
The game-addict director Paul Anderson (Resident Evil, DOA: Dead or Alive and AVP) does a fine job with the storyline and the pre-requisite CGIs are hunky-dory too with some brisk and lively action.
Some black humour would have done more good than harm here, making Death Race a spectacular nonsense. But, without all that jazz the movie sadly ends up tasting like fast food junk with enough guns, girls and vroom vrooms, to keep your inner child entertained.
Of course, we don't want to see Statham as Jack Dawson, so if you like what he does best i.e. "Drive" then subscribe to Death Race -- at your own cost.
Rediff Rating: