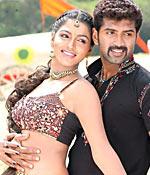 The best thing about a Tamil movie like Manja Velu is that it doesn't take itself seriously, and doesn't expect you to either.
Produced by Feather Touch Entertainment and directed by A Venkatesh, the movie's a hotchpotch of all the sentimental tearjerkers, melodramatic sessions, crackling stunts and comedy tracks over the years, rolled into one.
And when you have perpetual hero, Rising Sun Arun Vijay in the lead role, there's really no reason to go in with great expectations. In the end, that is the saving grace of the movie, along with yesteryear chocolate-hero Karthik, of course.
The wafer-thin story has nothing precisely new about it, but does offer some interesting twists. You're introduced to dashing ACP Subash Chandra Bose (Karthik, back after a long hiatus), flexing his muscles (literally) against a few baddies; he's been recently transferred to Trichy.
Thrusting mikes into his face and questioning his every movie is a journalist (Vijaya Kumar). Almost immediately we learn that he's Bose's father, while younger brother "Manja" Velu (Arun Vijay), so named because there's no one out there to beat him (literally), cavorts around the city. And everyone, in company of mother (Meera Krishna) and sister-in-law (Anu Haasan) is a big happy family.
Vaagai Chandrasekhar makes a neat villain Umapathy in his glitzy black suit, and promptly attracts the attention of the ACP Bose, who keeps finding newer and newer ways to outwit him. There's a mechanical whiz-kid, Dinesh as well, who manages to add pep to the proceedings.
In the meantime, following the success of Malai Malai, Manja Velu goes around with cohorts Manickam (Santhanam), mortal comic-enemy Bhooshan (Ganja Karuppu), raising comic ruckus wherever possible. It works a good deal in the beginning, as you get your share of amusement, while ACP Bose confronts villains in his own way.
There's not much for Manja Velu to do in the first half except romance heroine Anjali (Dhakshana), sing and dance but the second half more than makes up for it. The confrontations between Bose and Umapathy reach a fever-pitch level; several genuinely intriguing plot-twists grab your attention but the last half an hour brings the story back to Arun-Vijay-Hero Syndrome, resulting in shrieks, screams, unbelievable stunts, courtesy Kanal Kannan, and blood spurting all over the place.
More than half the movie belongs to Karthik, anyway. It's a pleasure to see this actor return to the big screen after aeons (even if his cheeks sag, and his watery eyes remind you of the years gone by). He has a boyish charm that makes the dialogues, dances and friendly family spats all worthwhile. With him, Santhanam (his Nadodigal spoof is neat), Ganja Karuppu, Chandrasekhar, Vijay Kumar and even Prabhu (literally) crowding the screen, the director has wisely decided to let Arun Vijay have his rein in the last hour and ends up playing spoilsport.
Arun Vijay sings, dances with customary elan but his stunts are something else altogether. Energy is a good thing but endless bashing of men amounts to nothing but tedium. Heroine Dhakshana, looks like a girl-next-door; a nice change.
Mani Sharma's music does absolutely nothing except for the background score, where he goes all out.
If you can ignore Arun Vijay's melodramatic histrionics, hour-long fights and crazy climaxes; Karthik and the comedians make Manja Velu a complete masala entertainer.
Rediff Rating: