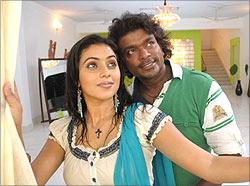 Pavithra Srinivasan feels that Vithgan is a silly movie.

The best part about Radhakrishnan Parthiban's (as he's now styling himself) latest venture, Vithagan, is that the head-villain spouts dialogues in praise of the hero, right at the moment of his death. After being shot at point-blank range in the head.

The Seventh Channel Communications' production, which has also been written and directed by Parthiban, manages to switch between the narrative styles of Gautam Menon, Selvaraghavan, Mani Ratnam et al, and ends up being incredibly bad.

The movie comes with the tagline 'With a Gun' -- a play on the title -- and justifies it too: everyone and anyone runs around with a gun, pointing it stylishly, clothes fluttering in the air. There's absolutely no regard for logic, rationale, or even a single brain-cell; you're in this for Parthiban's pithy one-liners (of which there are quite a few), and that's pretty much it.

The hero sees himself as an appealing mixture of Rajni/Vijay/Ajith/Surya, and wears shades and hairstyles that remind you of STR. It's sheer agony.

The story itself can be written on the back of a match-box: IPS officer Rowdhiran (Parthiban) is upright, honest, just and dashing. He has a vendetta against a host of bad men, chief among them Badri (Milind Soman), and alienates his superiors. Mercy (Poorna), who works in a call-centre, falls in love with this totally unromantic hero. End of story.

When Parthiban forgets that he's a super-talented actor who can bring Tamil's greatest actors to their knees, his one-liners hit the mark and he does bring a smile to your face. Sadly, that happens only for a few minutes in the film. For the rest of the two-plus hours, he exaggerates every emotion, expression and dialogue so much that it's ridiculous.

Poorna looks pretty and dances in a couple of Joshua Sridhar duets and that pretty much sums up her part in the film. All the villains, Milind Soman included, scream, screech and yell so ineffectually that you wonder how they became such powerful villains in the first place.

M S Prabhu's camera-work and Antony's editing are wasted. But the credit for a truly horrendous screenplay must, undoubtedly, go to Parthiban himself.

Police vendettas have been handled countless times before this, occasionally in excellent fashion, by intelligent directors. In the hands of Parthiban, who exudes such smugness and uses plot-twists that make even Superman seem puny, Vithagan is the epitome of silliness.

Watch only if you have nothing to do on a rainy afternoon--or if you need a few laughs.
Rediff Rating: