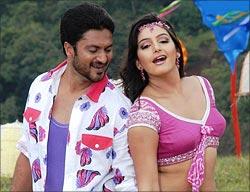 Kannada film Villian has nothing new to offer, writes Srikanth Srinivasa.
Villain
starring Aditya and Ragini features those hackneyed local 'villains' yet again.
Tippoo (Aditya) unleashes terror in the neighbourhood. One of his bosses is a local MLA and the other one, a goon. Anu, (Ragini), a radio jockey realising how powerful and influential Tippoo is, begins to use his name to get things done and bring people around to her way of thinking.
When she actually meets Tippoo, she uses his name without realising that she is actually in his company. They fall in love.
Then Anu files a police complaint against Tippoo for her brother's death. Tippoo is caught between
his love and the truth and has to work his way out of this dilemma.
Director M S Ramesh, who is known for his powerful dialogues, has penned some very average lines here. He is also the director.
Aditya could have made his character more intense, powerful and exciting. Ragini is eye-candy and adequate as such. She needs to watch out for the bulging curves though.
Rangayana Raghu as the local goon and Shobhraj as the MLA are predictable.  Dharma as the cop is quite good.
The music has nothing new to offer. However, the song Garam Masala has been picturised well.
Dasari Seenu's camera work is average.
Villain
is a run-of-the-mill film that has nothing new to offer.
Rediff Rating: