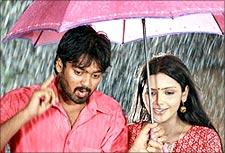 Don't go to watch Tamil film Sabaash Sariyaana Potti expecting a Jayaram funfest, says Pavithra Srinivasan. Post YOUR reviews here!


There are scripts, which possess great potential on paper, but when made into a movie, lose their plot and look completely ridiculous. Dwaraka Movies' Sabaash Sariyaana Potti, directed by veteran actor Venu Aravind is one of those.

What makes it worse is that so far, the movie was being promoted as a Jayaram flick, with him playing the protagonist and detailing his life. Nothing could be further from the truth.

Though the movie starts with Jayaram playing JR, the famous movie star who apes everyone from Rajnikanth to Vijay and spoofs Tamil cinema heroes admirably, its not he who's the crux of the movie, and this is not his story.
Instead, we have Gnana Guru (Sriram Karthik) as the hero, a small-town man from Vaadipatti who idolizes JR and wants nothing more than to make it big in movies.
As is the case with heroes like these, he has a doting mother (Sri Ranjani) who never says a harsh word to him, two girls who will do anything for him -- from getting movie tickets to cheering him to stardom (Anjana Thamburatti and Valentina) and even a conman who agrees to help him out, with his madcap assistant (Venu Aravind and Deepa Narendra). Which is why you see Guru travelling all the way to Chennai and pestering JR for a chance
to make it big. Indeed, he goes about the task with such irritating tenacity that sometimes you don't really blame JR for driving him out.
Naturally, the rejected Guru finds that a TV show is just waiting around the corner, willing to offer his extraordinary mimicry talents a shot. But there's still a furious JR trying to throw a wrench into the proceedings. Poor Jayaram has tried valiantly to liven up a bland script, but there's only so much he can do but his screen time is limited.
Sriram Karthik has done well acting without any self-consciousness. Venu Arvind tries to be cutesy smart and imitates an obsessed programme head and a conman. Unfortunately, he comes off looking mad rather than eccentric. Delhi Ganesh, Mayilsami and Vaiyapuri have been wasted.
Thaman's music doesn't really rise above the proceedings, while the production crew has largely just carried out their job. The only exception is Kabilan TN's artwork, which brings the set of a TV show to life brilliantly. Liyakath Ali Khan and Venu Aravind have contributed the dialogues, which are never funny anywhere, drive you into a yawn-fest and make you wonder when the story's coming to an end. Which is a pity, because the sets of a TV show could have been a marvellous plot-point to build a neat story.
Don't go expecting a Jayaram funfest. Sabaash Sariyaana Potti just uses him as an excuse to peddle itself across and not even random hilarious situations can save it.
Rediff Rating
: