The jumping off point for Shoot on Sight is a fictionalised version of a true event. Policemen in London shot and killed a man of Brazilian descent after mistaking him for a terrorist in 2005.
Using that and the backdrop of London after the bombings in the same year, this movie begins with a Muslim man being wrongly executed because he doesn't respond correctly to the police's instructions on account of being unable to hear those instructions because he was listening to music at the time.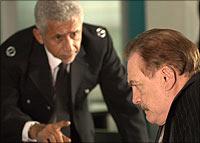 From there, the film goes into the hows, wheres, whys and wheretofores of the killing as well as the implications of such a racially-profiled death at a time when London was reeling from the after effects of the bombings. All of which sounds like the perfect setup for a British examination of terror, its effects and its repercussions in a decidedly non-American way [which is the fictional viewpoint the world has been getting the most of, thus far].
Unfortunately, what could have been a biting critique of the times we live in and a substantial look into how we got ourselves here, turns instead into a squandered opportunity piling cliche upon cliche in the hope that the haphazard edifice that is built in this way will somehow mean more than its individual parts.
A Muslim police officer, Tariq Ali [Naseeruddin Shah] is placed at the head of the investigation. Now Tariq is married to a white woman [Greta Sacchi], has two children, an older daughter who has a penchant for skin-tight or cleavage-baring attire and a younger son who is obsessed with soccer and possibly dreams of becoming a famous football club star some day. You can see how all the relevant cultural and socio-economic boxes are being ticked right?
Tariq is assisted in his investigation by Ruby Kaur [an almost unrecognizable Laila Rouass] and there are signs that the seemingly benevolent and no-nonsense police officer has aspirations to greater power through a promotion that his boss [Brian Cox] hints could be his if he provides a satisfactory conclusion to the investigation.
Somewhere along the way, Tariq and his family also play host to his nephew Zaheer [Mikaal Zulfikar] who is over from his native Pakistan to get a degree in engineering. Throw in a friend [Gulshan Grover] and a radical Imam [Om Puri] and you have all the requisite ingredients for a hot-button political thriller about race relations and the implications of geography and first world actions in third world reactions at home and abroad.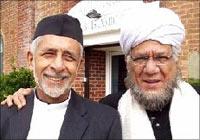 That is what one should expect but sadly that is not what one gets. The pacing is slow and the conflicts are far from well realized. The director Jag Mundhra is also supposed to have shared editing responsibilities on the film and though it is unclear who should be blamed for the slacking pace of the film, there is no doubt that the movie could have stood to be shortened by ten minutes, or more.
What does show up on screen is a watered down allusion to The Devil's Own in one part of the storyline and a bushel full of been-there, seen-that moments throughout the rest of the film. That the teenaged daughter will rebel by parading about in public in various stages of undress is a given.
That she will then feel betrayed when her boyfriend claims to have gone further with her than he actually did can also be seen coming from miles away. And those are just two from a multitude of examples that dot this film's landscape like unkillable weeds.
The acting is almost uniformly flat, as if all the players lined up to receive a pay cheque and then went about their prescribed motions in the most lackadaisical manner imaginable. Neither the action nor the drama is gripping, or even engaging. One gets the feeling of watching actions unfold in the same way that one would watch them on a long train ride after a hard day's work -- you see stuff happening but it doesn't once move you. Which should be a genuinely distressing experience to have at the movies, because as most of us know, life will let us have that experience for free.
Etching out characters that never once capture our imagination, and playing out the action with about as much enthusiasm as one would exhibit while getting a painful injection are the two cardinal sins committed by the filmmakers.
Which is a pity, because here was the perfect opportunity for the 'first film about 7/7' to truly take a good hard look at what shapes terrorist action and the common man's reaction to it. Still, good intentions simply cannot make up for shortcomings in execution. And yet again, it should be illuminating that the title of the film could very well have been its entire review.
Rediff Rating: