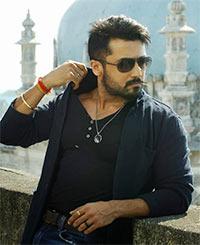 Surya's Anjaan is a long, tedious and predictable film about friendship and revenge, set in the backdrop of the Mumbai underworld, says S. Saraswathi.
Much was expected from the team that comprised Suriya, N. Lingusamy, his banner Thirupathi Brothers, co-producers UTV Motion Pictures and Santosh Sivan. Unfortunately despite the presence of such big names, Anjaan turns out to be a total dud.
Even the gorgeous Samantha and the presence of a host of stars from the Hindi film industry - Manoj Bajpai, Vidyut Jamwal, Rajpal Yadav, Dalip Tahil and Chitrangada Singh and Swedish-Iranian actress Maryam Zakaria, who have been roped in for raunchy item numbers, do little to make it appealing.
The film has an extremely trite and uninspiring plot. Krishna (Suriya) is physically challenged and has travelled from Kanyakumari to Mumbai in search of his brother. He visits pubs, offices of rich smugglers and favorite haunts of local goons to find some clue about his brother, who he claims has disappeared.
There is the inevitable flashback, and Krishna learns the truth about his brother, a dangerous and fearless (anjaan) criminal, respectfully known as Raju Bhai in the gangster circles. The formidable antagonist of Thuppakki fame Vidyut Jamwal is his dearest friend Chandru.
Together Raju and Chandru are invincible and have plans to control Mumbai with their international gold smuggling racket. However, they tangle with Imran Bhai (Manoj Bajpai), another ruthless gangster, who hates their guts and eventually has them both killed.
Krishna soon realizes that he has inadvertently stirred up a hornet's nest and is now being chased by his brother's enemies, who want him dead too. How does a man in crutches defend himself? Can he avenge the death of his brother? There is a twist in the second half that is neither surprising nor exciting.
Suriya has given a good performance and his chemistry with Samantha has worked out really well. Samantha is the police commissioner's daughter in the film and is kidnapped by Suriya to teach him a lesson, but they end up falling in love instead (sic).
The same, however, cannot be said about his bond with Vidyut Jamwal. Though the film entirely revolves around their friendship, the director fails to portray the depth and intensity of their relationship. You feel no empathy or connection with the characters.
Anjaan has the distinction of being the first film in the world to be shot with the Red Dragon Digital camera and being used by the master craftsman, Santosh Sivan, the results are simply stunning. Extremely colorful and stylishly shot, the film has none of the gore and destruction expected from a gangster flick.
The action sequences are well shot, but get tedious after a while. The bad guys just keep on coming endlessly, one at a time to get effortlessly slaughtered by Suriya.
Yuvan's music is quite good, especially the BGM and the Ek Do Teen number sung by Suriya and Andrea.
The biggest drawback of the film is the hackneyed plot and its narration style. There is too much drama and little to back it up, leaving you totally disappointed.
Director Lingusamy's attempt to recreate Superstar's epic Baasha with good looking stars and technical brilliance fails miserably.
Rediff Rating: