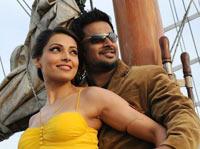 Savera R Someshwar feels Jodi Breakers could have been a good romance or a good comedy but it's neither. The film is seriously flawed.

He's finally free, but he's also broke.

Our freshly divorced hero, Sid (R Madhavan), has been taken to cleaners by his ex-wife. She's got everything, including his much beloved car and a hefty alimony.

After shaking a leg with a few friends and a number of bootylicous bikini clad babes (see video here), who all seem to find Sid inexplicably sexy -- do you seriously just need to be single to be irresistible? -- it's time to get down to the business of making money.
He opts that the everlasting, multi-billion dollar global business -- love. Only Sid decided to give it a twist -- instead of bringing people together, he becomes the wedge that drives them apart. He becomes the Jodi Breaker, the provider of escape routes to unhappy spouses!
Business only booms after he runs into Sonali (Bipasha) and makes her his partner. Unfortunately, greed and love get the better of Sid, he takes a case he shouldn't and ends up breaking his own super-successful jodi.
But his heart is in the right place, so he goes about trying to set things right. The question is -- will all be right in the end?
Not really, not with this film. It won't be a happily after ever at the box office because Jodi Breakers, a film that had a lot of potential, is seriously flawed.
There could have been comedy, there could have been romance, there could have been moments that make you go Awwww!
Instead, the dialogues are juvenile, the situations are oft-seen (how many times have we seen a lusty love guru eye-balling a woman's curves!), the supporting cast fails to, well, support and lead pair share no chemistry.
Madhavan tries in spurts and there are flashes that remind you of what a good actor he is.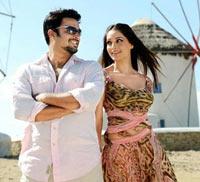 Bipasha looks good, and adds a strong dose of oomph with the Bipasha number (see video here). If her brief was to look good, she's definitely fulfilled it. The song -- the song situation actually -- is another story, considering it's a pivotal part of the film.
Why would a club in Greece use a Bollywood song-and-dance act on its much-awaited opening night? And how many club-hopping Greeks really know about Bollywood?
But Greece itself -- azure water, beautiful blue sky, white-washed buildings reflecting the brilliant sunlight -- is beautiful.
Omi Vaidya, on the other hand, is not. Self-confessedly called Nano because he's 'small, sweet and affordable,' he is supposed to be the super-funny sex magnet. Unfortunately, he's anything but. He even has a speech -- a nod at his hilarious act in 3 Idiots -- but it's a pale imitation.
We could, and will lay the blame at the dialogue writer's door, but Omi, there's only one Chatur Ramalingam. The Hindi film industry loves stereotypes and if Omi is not careful, he may just become a one-act man.
Even sweet adorable Helen can't help, though it's always nice to see her dancing, and her slightly bossy, lovable grandma act may remind you of her own grandmother. She's the one who really brings a smile on your face in the film.
Milind Soman and Dipannita Sharma are passable, you do have to give them an A for trying.
But there are two people here who should get a D minus.
Much of the dialogue is juvenile (written by director Ashwini Chaudhary). Here's an example: Marriage is the ultimate goal of love. No wonder then, they are delivered with an equal amount of disinterest.
And Madhavan, you need to be careful about your co-stars. If you are going to star in a film that features the superfit Bipasha, Milind and Dipannita, a pregnant tummy, jowly cheeks, a double chin and a failed battle with the bulge can only make you stand out. And not in the right way.
Rediff Rating: