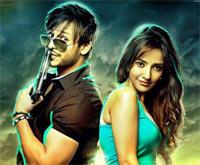 Jayantabhai Ki Luv Story is a confused tale, writes Prasanna Zore.

Movies like Jayantabhai Ki Luv Story makes the job of film reviewers that much difficult.

Is JKLSa love story or a gangster watch? Though it's confusing, one doesn't feel like panning it or praising it.

The only thing that maintains consistency throughout is heroine Neha Sharma's [ Images ] quest to get a job and make a career for herself.

Vivek Oberoi [ Images ] as Jayantabhai is a mix of two Munnas: Munna from Rangeela [ Images ] and Munna from Munnabhai [ Images ] MBBS. While Oberoi delivers a nice performance as Jayantabhai, the actor reminds us of his Chandu character from his brilliant debut film Company.
The story revolves around a small time gangster Jayantabhai and his petite neighbour, who comes to Mumbai [ Images ] from her hometown in search of a job.
The gangster helps her to achieve her dream and manages to succeed. As the film drags, the heroine falls for Jayantabhai's charms and by the time it ends, the gangster reforms himself.
The problem with JKLS is that it ties not only the audience but also the actors of the film in a tight knot of which neither the plot nor performances, except Oberoi's, help to break out of.
Rediff Rating: