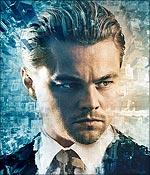 If one attempts to infiltrate Christopher Nolan's mind -- one would see words like dreams, memories and subconscious written in equation to success, moolah and appreciation, for he has convinced us again with his shrink-like observations about man's unexplored alternate reality.
While Memento dealt about the distressing lapse of memory and its implications on a man's life, Inception projects the landscape of one's subconscious -- the dark discreet alley seldom ventured. Only this time the director resolves to make it sufficiently noir and infinitely more intense.
Inception is not an everyday thriller that makes you forget the amount of popcorn you have nibbled and soda you have sipped. It is a maze that demands you to concentrate at every move, every conversation and the occasional silence. You have a strong chance of getting lost in the galaxy of megalomaniac visuals, but then the director has introduced totems to take care of that.
The totems serve as reminders about a character's state of being in the film -- whether he or she is in a dream or reality. The film essentially explores the potency of dreams to reveal one's subconscious, oscillating between the 'real' and the 'imagined'.
Cobb (Leonardo DiCaprio) has picked up this mind-boggling hobby from his father-in-law (Michael Caine); he plunders information from a man's subconscious by hurling him into a web of dreams. Things have gone awry in the past and he is now a fugitive whose only desire is to get to his two children. Fate offers him his only chance of redemption in the form of Saito (Ken Watanabe), a businessman who approaches him for 'inception' -- planting an idea into the head of a wealthy heir in order to split up his multi-million dollar empire. Cobb decides to 'take a leap of faith' and perform the unthinkable with the help of a young architect (Ellen Page) who designs the multi-layered dream project.
Cobb's team shows up on board a 747 with the target during a 10-hour flight that takes off to an imaginary establishment of dreams. The journey into their client's mind seems to follow veteran director Stanley Kubrick's train of thought -- complexities, chaos, and conspiracy. Characters that seem to defy gravity manage to evoke an edge-of-the-seat response.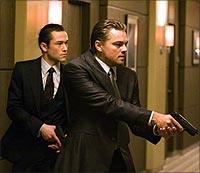 The story gets grittier as the 'inceptionists' realize the presence of the target's ace defences that seem to cause a substantial disruption at level one of the inception.
The visuals that follow emerge as wisps of fire devouring you. Watch out! Nolan is all set to haunt you with various trajectories introduced to the main plot. Cobb's subconscious, riddled with guilt for the death of his wife Mal (Marion Cotillard), is mixed up with the shared dream. Mal's miasmic eyes and unsettling shadows poeticizes the frame, as much as Edith Paif's Non, je ne regretted rien, which is featured as a soundtrack and plays every time the 'inceptionists' kick out of a dream.
The impact of the film is largely due to its sheer technological brilliance. The intensity of the visuals is such that it nearly gives you a three-dimensional experience -- buildings falling like meteors onto the earth, swanky hotel corridors tilted and elevated that is likely to sprain your neck and the snow avalanche-shots that blow you along with the blizzard. 
Overlooking the geeky aspects the film, you would desire substance that unfortunately shuffles in and out of the film. There is an emotional involvement that due to some reasons is not allowed to grow. Leoardo DiCapro sets the tone but ignores the language. He is seen to be extremely uptight, conceited and grim for large part of the film; not that the character demanded otherwise, but it is something we have seen enough in his last venture Shutter Island.
Cotillard on the contrary flows mysteriously from one frame to another. She evokes suspense of a higher order. Her occasional visits keep you immensely engaged; attributed to her unsettling facial ex-pressions.
However, what makes this film work is its powerful conceptualization: A sundry ride into the uncharted arena of human mind.
It is often argued that 'form is the content' and if that is true it is surely on the way to taste Dark Knight's success. It is suave, stylish, clever and questioning. Inception is a movie you take home with you only to come back for a second viewing in order to understand the very astute designs of the film.
Rediff Rating: