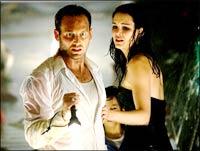 Without further ado, let me confess: I have not seen the 1972 superhit, The Poseidon Adventure.

Having said that, I hate to admit, the latest Poseidon directed by Wolfgang Petersen is quite the disaster. And no, I am not talking about the genre. Disaster flicks rock. And when Steven Spielberg or James Cameron are at the helm, they roar.

Before Poseidon, see the original



Sadly, Petersen's letdown streak continues after his last grandly staged, poorly executed spectacle, Troy. The sea has played the taut protagonist or menacing villain in his previous outings like Das Boot and The Perfect Storm. His fascination for the fierce tempest continues here as well.



Adapted from Paul Gallico's novel, Poseidon

is essentially a survival story of nine passengers after the luxury cruise liner is hit by a demonic storm. While the enormous ship crumbles, explodes, thrashes and thuds, its inhabitants dash violently about like a pack of dominoes. So much for Fergie (of Black Eyed Peas) sashaying in a red-hot number to bring in the New Year and all! Post-destruction, we witness well-dressed victims running helter-skelter to save themselves.

An all-knowing gambler cum ex-Navy chap, Dylan (Josh Lucas) appears to be clairvoyant, as he gives the Captain a thumbs down and plans his own escape. He finds an unlikely backup in rival high roller Robert Ramsey (Kurt Russell). Some more follow suit, including a god-fearing stowaway Elena (Mia Maestro), her waiter buddy Valentin (Freddy Rodríguez), single mommy Maggie (Jacinda Barrett), her son Connor (Jimmy Bennett), a depressed architect Richard (Richard Dreyfuss), Ramsey's daughter Jennifer (Emma Rossum) and her fiancé Christian (Mike Vogel).

One rule of a disaster flick -- few live, most die -- explains this extended line up of actors. As Poseidon runs for a mere 99 minutes, the action kickstarts without any build up of a looming tragedy, background of key passengers or an interactive warm up between them.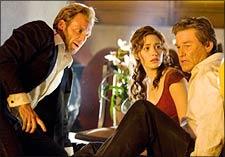 A terrific, digitally produced storm brews, destroys everything in sight and the players get in action taking the cue almost instantly. It works like a video game. Task one accomplished. One player down. Up next, task two, another player down. The levels keep getting tougher as the players progress towards their ultimate goal -- a lifeboat.

This racy fact works for the film because you don't get much time to bat eyelids or shift in your chair. Hell, the film wraps up even before your popcorn bag gets over. Sadly, this racy factor also make Poseidon just another SFX-induced brainless blast which evokes no sympathy when characters freak, shriek, die or exchange love-yous in the time of tragedy.

High on the special effects department, Poseidon is lined with flat, uninspiring performances. Forget a cinematic high, you can barely hear most characters, thanks to the overpowering sound.

The terrifying storm and chilling devastation are the only elements that are deliciously presented and genuinely keep you on the edge of your seat. My complaint is that such sequences are far too few. The intimidation factor could have more heightened. Larger than life is what you expect from disaster movies anyway.

Bottom line: Poseidon sinks without a trace.

Rediff review: