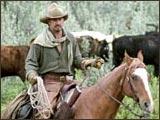 Kevin Costner returns as a director and star with Open Range, a reasonably well-made Western.
The movie also brings back to the big screen Annette Bening in her first solid performance since the 1999 award-winning hit American Beauty. Though Costner has suffered several ill-written roles, he has - wisely so - let the sage-like character played by Robert Duvall dominate the film.

One main drawback of Open Range is that most of its characters are either white or black. Adapted by first-time screenwriter Craig Storper from The Open Range Men, a novel by Lauran Paine, the script also goes overboard many times. The movie would have gained considerable appeal and critical acclaim with sharper editing, especially in its last quarter.


| | |
| --- | --- |
| | Recent Hindi film reviews: |
| | |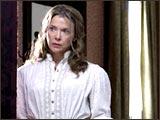 Yet, it offers enough intrigue and solid performances by Duvall and Bening, and lush cinematography by James Muro, to be an engaging film. With a good word of mouth, the film, which is far smaller in scope than Costner's Oscar-winning directorial debut
Dances With Wolves
, could become a sleeper hit of the season. 
The movie is set in the last decades of the 19th century, in the final years of the fast vanishing West. 
Costner, after courting disaster as an actor in films like 
Dragonfly
, is now seen as Charley Waite, a veteran cowpoke who rides herd with Boss (Robert Duvall), an old plainsman, Button (Diego Luna) and Mose (Abraham Benrubi).
The days of itinerant cowboys are nearing an end.
Trouble erupts when the greedy and heartless rancher, Denton Baxter (Michael Gambon), who doesn't like free grazers and their cows, makes trouble for the younger cowboys.
After Boss and Charley confront and assault Boxer's goons at a campfire, Mose is killed and Button is wounded. He is taken to a doctor in the small town where he begins recovering, Meanwhile, Charley finds the woman of the house Sue Barlow (Bening) engaging his own attention. But he is not sure about her marital status. The film takes a long time to establish a proper, interesting relationship between the two.
| | |
| --- | --- |
| | Recent Hollywood reviews: |
| | |
Charley also knows too well the lull and peace will not last long, and the greedy and unscrupulous Baxter won't let him and his pals go free. There is more violence but the R-rated film is far less gory than many of summer's big attractions.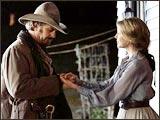 While Duvall with his glinting eyes and wisecracks dominates the film for most part, Costner is fairly effective when he is not trying too hard to look ponderous. What is even more interesting about Duvall's performance is that though we have seen him in similar parts, he still brings fresh enthusiasm and endows his character with splendid aura. 
Bening's character is intriguing and she looks radiant, making us wish we saw more of her.
Gambon, a fine British actor who is saddled with a heavy accent, hams in many scenes.
CREDITS
Cast: Robert Duvall, Kevin Costner, Annette Bening
Director: Kevin Costner
Written by: Craig Storper, based on the novel The Open Range Men by Lauran Paine
Distributor: Buena Vista