Home > Movies > Reviews

Why is Salman so uncomfortable?

Mathew Thannimoottil | August 13, 2003 23:26 IST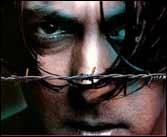 After a long time, a Salman Khan release. His recent spate of controversies. The media hype about Tere Naam being his true life story. You could be forgiven for having high expectations. 
The original Sethu, directed by Bala, was a superhit in Tamil and cemented Vikram's place at the top. His performance even won recognition at the National Awards level.
I was curious to see how Salman Khan, with his two different hairdos, would match Vikram.
Also, Mahima Chaudhry was touted to be a surprise package in the movie.
| | |
| --- | --- |
| | Would you like to: |
| | |
After watching Satish Kaushik's Tere Naam, all I felt was letdown.
Before I go into that, here is the story in a nutshell: Radhe (Salman Khan) is a college rowdy living with his brother (Sachin Khedekar of Astitva), a doting sister-in-law who is his only support at home and their daughter.
Radhe lives on a diet of 'yessir' friends and collegemates. He comes across Neerjara, a timid Brahmin girl entering her first year in college. She is the daughter of a temple priest. Radhe loses his heart to her. 
It doesn't take much for the two to fall in love. And then Satish Kaushik brings in the twist: Radhe loses his mental stability as a result of a violent and gory attack by a gang whose brothel business he tried to interfere with.
The rest of the story is for you to guess.
| | |
| --- | --- |
| | Recent reviews on rediff.com |
| | |
Here's why I felt the movie was a letdown:

Satish Kaushik is known for his penchant for remakes. He had earlier dished out Hum Aapke Dil Mein Rehte Hain and Hamara Dil Aapke Paas Hai - both ripoffs from Tamil originals and both mediocre attempts.

He manages yet another lacklustre attempt at direction. The original had some wonderfully constructed sequences and an exciting climax. Tere Naam has none. The story by itself is clichéd. But it was the treatment that made Sethu top class. Tere Naam remains a cliché.

We are not given much reason why Radhe falls in love with Neerjara or what makes her reciprocate his love with such speed and fervour. Tere Naam suffers on the emotional front.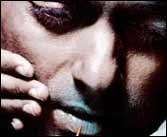 Salman's Radhe seems forced, with an out-of-place wig (which hides his eyes or the different brands of sunglasses). The actor does not seem comfortable, though he attempts a far credible effort in the second half of the film sans wig. His emoting and dialogue delivery especially when he kidnaps Neerjara and explains why he is madly in love with her leaves no mark.
The music is average while the choreography leaves much to be desired.
Mahima was introduced through a college song number. Her presence was neither an item number nor of any specific significance. Wonder why she accepted this role.
On the positive front, Bhoomika Chawla makes a decent Hindi debut, looks earthly and fits the role of the middle-class Brahmin girl to the T. Though she does not have much emoting to do, she does show promise at times.
Want to see this movie? Check out Rediff Movie Tickets!



What do you think about the story?








Read what others have to say:





Number of User Comments: 89








Sub: why is salman so uncomfortable?

this review is totally ridiculous.i think mr.mathew doesnt have any sence of cinema or he totally baised towards the tamil original.it would be better the ...


Posted by shafeeq









Sub: good review

Your review was on the dot. The general media was going overboard praising a medicore performance and a 3rd rate direction. Atleast there are some ...


Posted by Josy Chakoo









Sub: tere naam

i think the review sucks........and sallu is back again is goin to rock us hard i luv him just the way he is and everbody ...


Posted by Naveed









Sub: Salman

I totally disagree with this critic!!! Salman, in my opinion, did an amazing job...he has always had the potential to be a great actor and ...


Posted by Shalu









Sub: hair cut

all i wanted was a big scissors to cut salman's hair off his head...i was relieved to see him bald in the second half...may be ...


Posted by seema kukreja






Disclaimer