The ever-inspired Pritam takes on the soundtrack for upcoming Shahid Kapur-Vidya Balan starrer Kismat Konnection, and, borrowing heavily from current market trends and influences, comes up with a couple of nice tracks -- and then spends over half the CD making us listen to them again and again.
Aai Paapi (Tu Hai Meri Soniye) is instantly reminiscent of vintage A R Rahman stuff, like that insanely earworm-like Mustafa Mustafa song. Singer Neeraj Shridhar takes turning sounding like Apache Indian and Himesh-bhai, and frightening as that combination sounds, it's not bad. Crucially, Pritam's clap-along percussion does the trick, and this could just fire up dancefloors.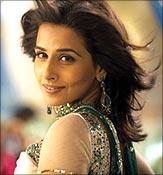 The segue into track 2 couldn't be more abrupt. Balladeer Atif Aslam embraces Bakhuda Tumhi Ho with open arms, and the song sounds like his typical spirited self until his voice collides with that of Alka Yagnik almost exactly midway through the song. It's an interesting, unusual pairing and -- save for the church-choir style chorus -- works well on first listen, unless, that is, you're tiring of Aslam by now.
Another voice one could be tired of very soon is HardKaur who starts off Move Your Body Now with her trademark Punglish lines, but while the percussion takes addictively over, it is the strange confluence of extremely varied voices -- Shaan, a fresh sounding Suheil and a ear-piercingly shrill Akriti Kakkar -- that marks this song as any different from HardKaur's usual stuff. The groove isn't bad, borrowing liberally from Bhool Bhulaiyya's Hare Krishna Hare Ram, but while the boys sing well, it's only the hardcore Punjabiness of this song that could perhaps make it work. As a track, there's nothing memorable.
Is This Love (Kahin Na Laage) is one of those songs that, by its very title, seem like they'll be quite a task. Silk Route frontman Mohit Chauhan croons with trademark tenderness, but the over-mushy is-this-love chorus is just painful, and Shreya Ghoshal sounding like she'd inhaled helium doesn't help the cause. Seriously, this is one embarrassingly bad song -- the kind you'll avert your face from on screen, even.
The spirit of Daler-paaji is invoked with the dholak-heavy start to Soniye Ve (Dhak Dhak Dhak), but -- what's this? -- Sonu Nigam kicks in and seems to be enjoying himself after a really long time. He does sound oddly whiney though. Sunidhi Chauhan is characteristically flawless, here sultry and suggestive even as Nigam annoys. There's more random, badly written English 'rap' here, but despite Chauhan, the only thing that could salvage this song is a superbly shot music video.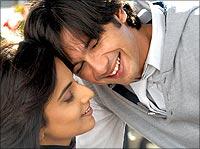 Did the disc just skip? We have Move Your Body Now again, and it sounds almost exactly the same as last time. Almost, we say, because this time evidently Shaan isn't missing. It's pretty much inexplicable, as if Pritam is offering us a CD with the same song and our selection of singers to pick from. Then again, with five songs and six remix versions, he's really not giving us much besides choice.
So yeah, the mixes. The Bakhuda Tumhi Ho Remix is pretty nice, actually -- not significantly altered from the original, and after these cacophonic tracks, it's refreshing to hear Aslam again, though Yagnik is too shrill to appreciate.
The Aai Paapi Remix works good too, nicely tempo-ed up for the floors, and the Himeshity of the song is even more evident this time around -- which basically means it'll play at many a party.
Move Your Body Now (Remix), marking the third outing for this song on the album, still tries too hard to make an impact. Blah.
The Is This Love (Remix) sounds a little less moronic after all that HardKaur, but really, this track is impossibly bad.
Finally, we have yet another filler, as Soniye Ve (Dhak Dhak Dhak) (Remix) aims at leaving us with a bhangra aftertaste. Urgh. Don't buy this album. Try and get hold of Aai Paapi and Bakhudi Tumhi Ho, and -- if willing to deal with a nasal Nigam -- Soniye Ve; that stuff is fun, but the rest is remixed pap.
Rediff Rating: