Rediff.com invited readers to send in their reviews of Karan Johar's Kabhi Alvida Naa Kehna, and be part of the Rediff Movie Reviewers group.
The response was very good, and selecting the top ten reviews was an interesting task.
Last Monday, we featured Amodini Sharma's review. On Tuesday, we featured Abhishek Asthana's review. On Wednesday, we featured Sumier Phalake's review. On Thursday, we featured Kiran Kamath's review. On Friday, we featured Arun Ganesh's review. This Monday, we featured Tasneem Karbani's review. Yesterday, we featured Madhusudan Hegde's review.
Today, we feature a review by Shahid Khan.
In Nancy Meyers' Something's Gotta Give, there is a sequence where Erica (Diane Keaton) goes through a long phase of crying as a reaction to her love tryst with Harry (Jack Nicholson). The comedy arises from the fact that she is unable to do simple everyday tasks, due to constant interruptions from her uninvited waterworks. There is an understanding here that never-ending tears do not make for effective drama, and it is best to convert some of it into wry humour.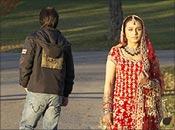 By contrast, Karan Johar's Kabhi Alvida Naa Kehna is an unabashed weep-fest. Every character receives the opportunity for a tragic speech and a little sob. The potential dramatic sparks are put out by a tsunami of tears. In this Johar world, where even strangers hug each other and lovestruck women sit on benches in the centre of New York and... sob away to their heart's content.
Which is sometimes fine. I mean it is nice to watch characters let out their feelings in this current climate of war and terror. A good cry is therapeutic, but boy does it make the film much less interesting. And it's not just one good cry, KANK has many, many, many, many cries.

In this maudlin tale of relationships, there are two failing marriages. Dev (Shah Rukh Khan) is a frustrated footballer married to a highly ambitious magazine editor, Rhea (Preity Zinta). The second marriage is between Maya (Rani Mukherjee), a hygiene-obsessed schoolteacher and Rishi (Abhishek Bachchan), who yearns for more excitement in their sex life.

The central love story of Dev and Maya blossoms quite nicely. After their first meeting together, Dev stumbles onto the street and is then knocked over by a car. His physical injury is a suitable metaphor for his inner turmoil. It is the first time that he comprehends what it is like to have a real friend, a real soulmate, with whom you can share meaningful and honest heartfelt conversations. The car accident brings him back to earth with a thud and causes him to examine the impact of this raw feeling that his encounter with Maya conjures.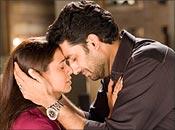 This exploration could be wonderfully raw and honest, except Johar chooses to cloak it in the trappings of his trademark and indulgent style. So, you have to search hard for that revelation of truth that can only come from the depths of the heart. The hotel scene is an apt indication of the emotions that lie underneath. After being fuelled by jealousy, Dev realises that he longs desperately for Maya's embrace. Their lovemaking is poignant in that it portrays two individuals who are so completely open to each other. The rest of the world becomes irrelevant in their unspoken love. This interesting sequence is spoiled by edited inserts of Rhea and Rishi boogeying away at a nightclub in their own song sequence.

It's a shame really because there could be so much more and yet there is so little. The external wrapping is a constant irritation. The 'humorous' situations would sit easily in cheap American sitcoms. Certainly Kabhi Alvida... has more than its fair share of hammy walk-on artists, exaggerated unlikely scenarios and unfunny one-liners. Amitabh Bachchan is a source of embarrassment for his squirmy character leering at every girl he sees.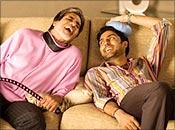 Maybe a completely different cast or better characterisation could have helped. Shah Rukh Khan often strikes the wrong note, and his bitter yapping does little justice to his acting capabilities. Rani Mukherjee does breathe life into the dilemmas of her character but the role is not challenging enough for a talent like hers. Preity Zinta comes off even worse and appears to be going through the motions. Initially, Abhishek Bachchan seems miscast as the joker, but comes into his own in the concluding reels with a couple of memorable scenes.

There is no denying that this film does come from Karan Johar's heart, but it is the celluloid equivalent of self-pity. We are turned off by people who constantly feel sorry for themselves and this is a cinematic equivalent in some ways. No doubt, the themes of fragmented relationships, broken friendships and the death of a father figure must have had some strong impacts on his life. I wish he could push the envelope and surprise himself rather than dress the intimate contents of his films into the shackles of melodrama.
Shahid Khan, 25, is a Film Studies graduate based in the UK.