Home > Movies > Reviews > Readers' review

Karan, give us the mustard fields back

August 25, 2006 20:11 IST


| | |
| --- | --- |
| Preity Zinta | |
| | |
| | |
| | |
| | |
| | |
| | |
Rediff.com invited readers to send in their reviews of Karan Johar's Kabhi Alvida Naa Kehna, and be part of the Rediff Movie Reviewers group.
The response was very good, and selecting the top ten reviews was an interesting task.
On Monday, we featured Amodini Sharma's review. On Tuesday, we featured Abhishek Asthana's review. On Wednesday, we featured Sumier Phalake's review. On Thursday, we featured Kiran Kamath's review.
Today, we feature a review by Arun Ganesh.
I make onion poha for breakfast thrice a week with the bare minimum ingredients. One day, I tried to experiment and tried some sugar (caramelised onions, anyone?), extra turmeric and chilli powder. The result was anything but edible.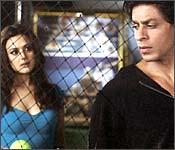 Kabhi Alvida Naa Kehna is an honest attempt to break away from the mould of sugary romances by the new-age love guru Karan Johar. An honest attempt, huh? It's the result that speaks volumes in the age of fast-food and fast-love. What we get to witness this time is not the time-tested elaborate shaadis, karwa chauths or the big fat Indian family reunions, reminiscent of his and Yash 'uncle's' movies. This time, it's the bold subject of infidelity -- the sensitive (ahem!) portrayal of seeking love outside a loveless (?) marriage. How far does Karan succeed?
KANK is the story about Dev (Shah Rukh Khan), a footballer whose career dreams are broken along with his leg when he meets with a freak accident. Now, a recluse, his ever-complaining ways puts his marriage with Rhea (Priety Zinta), a successful woman, on the rocks.
In another part of New York City, there is marital tension between Rishi (Abhishek Bachchan), and Maya (Rani Mukerji) for reasons only known to Karan. Maya is a cleanliness freak and doesn't know why she is still married to Rishi after four years. She thinks that she is trapped in a loveless marriage, whereas her hubby still goes ga-ga over her. In the midst of all this mayhem, we have the swinging sexagenarian Sam (Big B) and Dev's endearing mom played by Kirron Kher.
It's baffling to comprehend the first meeting between the protagonists Dev and Maya on the latter's wedding day and the subsequent exchange of words between the strangers. She is confused about the marriage right from the start due to godforsaken reasons.
Cut to the present time, and the duo meet up under similarly make-belief circumstances, thanks to sequences revolving around a bizarre character called 'Black Beast.'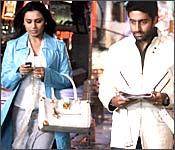 Coming back to the crux of the movie, the protagonists become pally, meet up regularly and discuss ways to save their crumbling marriages. But they become too close for comfort and end up cheating on their respective spouses.
Shah Rukh plays Dev with conviction and nobody else could have bettered him here. But hey! Wait a minute. Haven't I seen the same set of expressions in half a dozen of his earlier movies? Rani is competent but one hardly tends to sympathise with her character.
Abhishek is the surprise package. He goes through a range of emotions as if he is already a veteran. Preity looks glamorous and in a couple of scenes, manages to overshadow King Khan too. But was that cleavage show necessary? Kirron Kher does a great job but it's Big B who proves yet again that he is the real king.
All said and done, the stellar cast raises the bar of the movie. But the film is still a half-baked plot and very disappointing. The screenplay leaves a lot to be desired and that poses a question in front of Karan -- is it really worth breaking away from the mould? An ardent fan of his movies would be satisfied watching the protagonists running around trees and mustard fields and elaborate traditional celebrations of filthy rich families.
Nowadays, I make onion poha with a dash of lemon and they taste just fine. I guess I've learnt the right way of making it by reviewing my mistakes. Good luck, Mr Johar.
Arun Ganesh, 25, is currently based in Gurgaon, and works in the India branch of a telecommunications multinational company.
Click here for More Reviews


What do you think about the story?








Read what others have to say:





Number of User Comments: 7








Sub: Touche

This is a kind of review we would be interested to review about. Clear , concise , complete and cranky. If your Poha has the ...


Posted by Naina









Sub: Cool review

I neither know how to make onion poha, nor am Karan. But as the author pointed out, with such a "great combo" of actors Karan ...


Posted by siddhu









Sub: KANK

Rediff: you are giving more publicity...


Posted by srinos









Sub: Good Review

I agree with you. Its time for SRK to think wise and accept roles. Also, to do something different.


Posted by Gopal









Sub: Wow

Arun...Boy...look at this as an alternate career option...you were good...I have saved my tickets to be sent back to Mr. Johar for refund !!! Of ...


Posted by anil






Disclaimer