"You're a leading lady Iris. But you behave like the best friend."
In Nancy Meyers' The Holiday, 94-year-old veteran scriptwriter, Arthur (Eli Wallach) brilliantly sums up naive newspaper columnist, Iris Simpkins' love life, with this one line.
In fact, it profoundly sums up many a jilted lover's plight when they are desperately trying to pick up the pieces after an unequal relationship, where one partner is in love and the other was (or is) in need.
Iris Simpkins (Kate Winslet) is one such victim at the receiving end of her on-off lover's need for her. She unsuspectingly falls for the charms of her smooth-talking colleague Jasper Bloom (Rufus Sewell). Bloom gets engaged to another colleague without actually dumping Iris.
He plans to indulge himself in the best of both worlds: a fiancee (whom he loves) and a lover (whom he needs). Iris, the lover, will double up as a critic (for his professional writing). So, he relentless pursues her, to keep this convenient arrangement going.
Iris' self-esteem plummets to a zero and she feels humiliated, depressed and suicidal.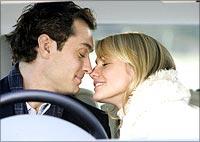 But in the knick of time, she connects online with Amanda Woods (Cameron Diaz), an emotionally high-strung, successful and glamorous movie trailer producer who lives in a plush neighbourhood in Los Angeles.
Amanda wants to escape to a quiet, nondescript locale, where she can recuperate from a cheating boyfriend. She spots Iris' cottage up for rental on the Internet.
"Are there any men in your town?" she asks Iris on chat. "Zero," types Iris.
This response seals the deal and the two, strike up a novel travel arrangement -- they agree to exchange homes, cars and patios for two weeks. So, Amanda jet sets to Surrey, a quaint little village in the UK to live in Iris' tiny cottage. Iris flies to LA, to live in Amanda's sprawling mansion, which comes with a swimming pool, the latest gadgets, windows that open and close at the touch of a button, the works. Iris promptly falls in love with Amanda's LA bungalow and everything in LA.
But the city-bred Amanda has difficulty adjusting to the teensy-weensy dimensions of Iris' cottage. And having to drive Iris' compact red little Bentley 'on the wrong side of the road and the wrong side of the car'. The extreme quietude of the village makes her restless and she's ready to head back to LA. A chance meeting with book editor Graham (Jude Law), Iris' brother, who drops in at the cottage to 'take a leak', in a happily, inebriated state, might make her change her mind.
In the meantime, Iris whilst driving around in LA one day, spots an elderly neighbour Arthur pottering about on his walker, lost. She offers him a lift home and mentions that she's from Surrey.
"Cary Grant was from Surrey," he says.
"How do you know that," she asks, surprised that he's heard of the place.
"He told me," he says earnestly.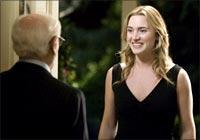 She notices a couple of Oscar statuettes carelessly strewn about his untidy study. And that he seems resigned to a life of solitude and forgotten by the industry. Yet, he harbours rich memories of a bygone Hollywood era. She extends a hand of friendship. Simultaneously, music composer and proverbial nice guy Miles (Jack Black), a work associate of Amanda's, drops in at her mansion, but meets Iris instead. He's currently dating Maggie, an aspiring actress, but the status quo could change any minute. Que sera sera.
In the latter half, the pace of The Holiday slows to a trudge at one or two places, and the film has its 'too good to be true' moments. Nevertheless, there's something very endearing about The Holiday.
It's one of those films, that isn't as much about the ending, as it is about the journey, which is hilarious, heart-warming and pleasant. It's also an insightful take on relationships in an urbane context. And there's eye candy, lots of it, for both guys and girls.
It may not be a must-watch at the theatre, but it's a film you might consider stashing in the corner of your DVD collection. Something you could fish out, when you're home alone and in a mood to be cheered up. Yes, The Holiday will make you smile. 
Rediff Rating: