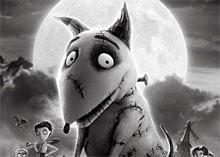 Nishi Tiwari says Frankenweenie scores because of its well-paced story.

After his 2005 stop-motion directorial debut Corpse Bride, acclaimed American filmmaker Tim Burton returned to his favourite format with Frankenweenie in 2012.

The Academy award nominated 3D film is based on his 1984 short film of the same name and is a tribute to 1931 classic Frankenstein.

Burton, who's famously fascinated with stop motion and morbid themes, explores the interaction between the living and the dead, much like Corpse Bride, in Frankenweenie.
Only, the protagonist in in the film is a kid who, unable to cope with the death of his pet dog Sparky, brings it back to life with the help of science.

Victor Frankenstein is an aspiring filmmaker and scientist who lives with his parents and his pet dog Sparky in the sleepy little town of New Holland.

He goes to school with a bunch of town kids but spends most of his time holed up in his makeshift laboratory in the attic and with Sparky.

When his concerned father urges him to do more conventional things, like playing baseball, he takes part in a school match and hits a home run when Sparky runs out on the road to fetch the ball and gets killed.

Struggling to come to terms with this tragic loss, Victor digs up Sparky's corpse and brings him back to life taking inspiration from a science experiment in school.

What follows is a diligent bid to hide the revived dog from his parents and nosy classmates and how the whole town reacts when his big secret is out.

Shot entirely in black and white, Frankenweenie scores with its well-paced story, and sharp social commentary on cliques in a classroom and a small town where people resist any kind of radical change.

Frankenweenie also constitutes of tributes to Burton's favourite horror films -- while Nassor, a loner in Victor's class is fashioned after the Frankenstein monster and late actor Boris Karloff, who played the monster in Frankenstein, the Frankenstein's neighbour and town mayor is a homage to the villainous Burgermeister Meisterburger from the Rankin/Bass film Santa Claus Is Comin' to Town.

Winona Ryder as Elsa Van Helsing, Catherine O Hara as the creepy girl and Martin Landau as the much loved science teacher, frequent collaborators of Burton lend their voices to the film with much success.

The highlight of the film, however, is the bonus features section of the DVD, even though it should have had more material. While Richard Burton and co-producer talk excitedly about the film from Comic Con 2012, the viewer is only briefly allowed a peek at the masterfully crafted miniatures used in the film.

Rediff Rating: