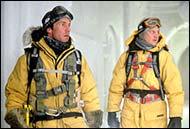 The Day After Tomorrow boasts of awesome special effects, including some eye-popping sequences of a flooded New York, in the first half. But the plodding survival drama in the second half ruins it all.
This disaster flick may earn nominations at the Oscars in the technical category. But as far as creating tension is concerned, The Day After Tomorrow falls flat.
Every character in the film is cardboard-like. The talented cast, including Sela Ward, appears to have resigned itself to the special effects department right at the start of the shoot.
The first half an hour startles with its tightly edited SFX. The next 90 minutes disappoint.
It has been a decade since director Roland Emmerich began work on Independence Day, where the main villains were aliens. Emmerich revisits the theme of earth facing a life-threatening cataclysmic event. This time round, the villains are powerful politicians in Washington who have selfishly disregarded global warming warnings.
The Day After Tomorrow does not work well as a fable, but it holds your attention every time the camera focuses on the impending and continuing disaster scenes. Not to forget the spectacular depiction of the Empire State Building cracking up.
The film is far more effective when it handles funny and ironic scenes, which cost a minuscule fraction of the disaster scenes. Watch out for the scene in which the American president (Perry King) turns to his vice-president and asks what should be done in the face of looming universal destruction. Even more amusing and telling is the sequence in which millions of Americans try to break through a closed border into Mexico to avoid the killing weather.
The Day After Tomorrow opens with climatologist Jack Hall (Dennis Quaid) shocking a New Delhi environmental conference and enraging a Dick Cheney-like American vice-president (Kenneth Welsh) with his claims that global warming would lead to catastrophic frigid consequences.
His warning becomes a reality when it begins snowing in Delhi. Soon, we see menacing weather in various parts of the world. Giant hailstones pour on Tokyo. And Hollywood has some of its most prominent landmarks threatened.
While weather expert Terry Rapson (Ian Holm) ponders over the alarming decline in ocean temperatures, Hall races to offer solutions to the impending catastrophe. When the warning of impending disaster goes out, Hall's teenage son Sam (Jake Gyllenhaal) arrives in New York for an academic decathlon.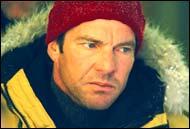 As Sam holes up in New York Public Library on 42nd Street with classmate Laura (Emmy Rossum), his father leaves Philadelphia to rescue the son even as the temperature is dropping by more than 10 degrees a minute. Hall's wife Lucy (Sela Ward) stays back at a hospital to help her patients, risking her own life in the process.
The second half is predictable with a romance between the classmates coming true.
The Day After Tomorrow raises hopes of a rousing climax. But no such thing happens.
CREDITS
Cast: Dennis Quaid, Jake Gyllenhall, Ian Holm, Emmy Rossum, Sela Ward, Kenneth Welsh
Director: Roland Emmerich
Screenplay: Roland Emmerich and Jeffrey Nachimanoff; suggested in part by the book The Coming Global Superstorm by Art Bell and Whitley Strieber
Rating: PG-13
Running time: 2 hours
Studio: 20th Century Fox