With great anticipation, and very little warning, we are lowered into the third part of the Bourne saga, which picks up right after Jason Bourne apologises to the Neski daughter in the second movie.
There is still the matter of getting away from Russian cops, which he manages with his usual mix of aggression and economy of movement. Since Pamela Landy (Joan Allen) figured that he was not involved with the death of the two agents in Berlin, she was fine with allowing him to get away as long as he stayed off the grid and minded his own business.
Unfortunately for Bourne, happy endings (or even bitter-sweet ones) don't make for very engaging movies so the trouble in this film arrives in the form of British reporter Simon Ross (Paddy Considine). While working on an exposé unmasking Bourne, Treadstone and another operation named Blackbriar, Ross uncovers enough to put his life in danger. In trying to find and then protect Ross, Bourne is dragged back into the mess and this time he is up against CIA Deputy Director Noah Vosen (David Strathairn). Vosen runs Blackbriar, is unafraid to order the execution of anyone who gets in his way and proves himself to be the opposite of the more measured and balanced Landy.
In the cat-and-mouse game that ensues, we travel with Bourne and the assorted people hunting him through Paris, London, Madrid, Tangiers and finally New York City where the amnesiac spy comes face-to-face with the man who helped him become Jason Bourne.
That's about as far as this review goes, story-wise.
The makers of the Bourne series including returning director Paul Greengrass, screenwriter Tony Gilroy and cast members Allen, Damon and Julia Stiles have managed to put together a trilogy that expands upon its origins and effectively explores the geography of the chaos around one man's life in a very exciting way. When you get right down to it, this entire trilogy is actually about a man trying to find his place in the world after losing his memory.
That's it.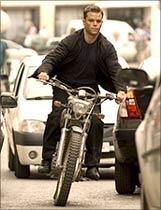 No trauma about protecting a secret identity, no pirate treasure to chase, no millions to steal out of Vegas and no witches and wizards to do battle with. So with that 'limitation' in place it is impressive that Matt Damon is being spoken of as the action hero who sets the bar for all other action heroes in Hollywood right now.
While watching a Bourne movie, one gets the sense that all the stunts and all the fights are not safe choreographed affairs. Be it the evading of closed-circuit cameras and a sniper in London, the chase across Tangiers roads (and then rooftops) or the chase through New York traffic, the viewer is placed close enough to the peril to actually feel those crashes and bumps.
The performances are uniformly strong with new addition Strathairn doing a fine job of playing 'invisible man with immeasurable power.' Matt Damon, as usual, brings enough intensity to his performance to achieve a palpable tension between two men who don't actually meet face-to-face for most of the movie.
Ultimatum is not without its flaws but most of those are limited to dialogue, which feels are more ham-handed and clunkier than the earlier movies. Also, to Strathairn's credit, he works wonders with a fairly stock-in-trade character who mouths all the cliché phrases and behaves in the manner of the classic ugly government agent.
Despite its flaws this movie is miles ahead of others in its pack and what it all comes down to, is the performance of the lead character. Bourne is back and better than ever. Faster than any movie hero (who isn't a superhero) and extremely capable with languages, subterfuge, fighting and commandeering vehicles, Jason Bourne is probably the strongest reason why James Bond is now served in a blonde, muscular and aggressive flavour.
If you truly want to enjoy Ultimatum though, it would make sense to watch the two previous movies before you step into the multiplex for this one. Seeing how this film connects it all up is a fun bonus to support the chills and thrills already associated with following the exploits of the amnesiac super spy. Check it out and give thanks that a muscular thriller can still come out of Hollywood.
Rediff Rating: