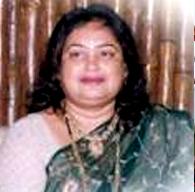 Rediff.com's Ronjita Kulkarni recalls her meeting with the author who was slain by the Taliban on Thursday.
Certain incidents can change one's life forever.
Especially if the day you are going to die has been announced.
Author Sushmita Banerjee, who lived in Afghanistan at the time, was due to die on July 22, 1995.
The Taliban had threatened her about that.
But Banerjee decided to challenge the Taliban and made a dramatic escape.
Years later, in 2003, when I met her at a promotional event for Escape From Taliban, a film inspired by the events of Banerjee's life, she didn't look like a person who had endured strange ordeals.
She seemed quite at ease on stage as she addressed the media, spoke freely about herself and even shared a few laughs.
Later, when I met her in her room -- she was staying at a suburban hotel for the duration of her stay in Mumbai -- I realised that no memory was blackened out, no matter how horrific it was.
She told me her story, quite animatedly and in detail, never hesitating or being afraid.
She spoke about the brutality of the Taliban, and how hard life had become for the Afghan people after they came into power.
She said she did not like her interactions with Manisha Koirala, who played her character in Escape From Taliban. She would have preferred Rekha or Dimple to have played the part, actresses from her time.
She was frank about the misunderstandings she had Ujjan Chatterjee, who was to assist her on the film.
When she finished saying her piece, she got distracted and tuned out. It was her polite way of ending the conversation. She wanted to tell her story and wanted to tell as many as she could, tell all those who would listen to her.
As I said goodbye, she smiled politely and got ready for the next interview.
She was so keen on making movies -- she had already moved on to a Bengali film -- that I thought I would see more of her.
Unfortunately, Escape From Taliban was a badly made film, and Manisha couldn't quite capture Banerjee's pain.
Fate, obviously, had something else in store for her.
Ten years later, the Taliban finally caught up with Sushmita Banerjee outside her home in Afghanistan.