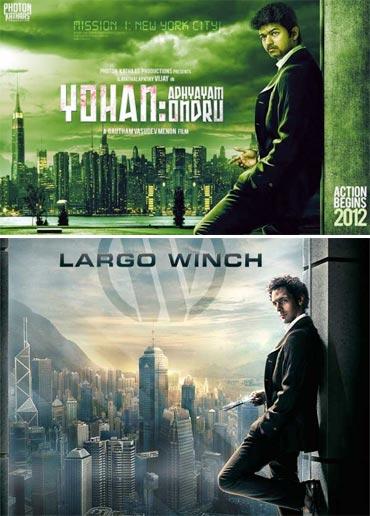 Tamil actor Ilayathalapathy Vijay, who has always stuck to formula films, is trying to experiment now.

Otherwise, he wouldn't have signed Shankar's Nanban, a remake of Three Idiots, and Gautham Vaudev Menon's Yohan (Chapter One).

But it is not Vijay moving away from his comfort zone that is the talk of the town, but the poster of the Gautham Menon film: it is a carbon copy of the poster of the 2008 French film Largo Winch.

Largo Winch was

based on the famous Belgian comic series, which featured Largo Winch, an orphan who is forced to head a business empire after his adoptive father Nerio is murdered.

His struggle to preserve the empire and avenge Nerio's death is what the film is all about.

Gautham Menon has roped in A R Rahman as the music composer.

The shooting of the film is expected to start in 2012.