Vivek Agnihotri has embarked on his next directorial venture, Dhan Dhana Dhan Goal, inspired by the real life Munich plane crash catastrophe (1958) that left the legendary Manchester United football team in shambles.
"Goal is about resilience and courage. It's about how you rebuild yourself and bounce back to life amidst adversity. We are trying to convey this through a football match," Vivek explains enthusiastically.
In a chat with Swati R Chaudhary, Vivek talks about Goal, the alleged showdowns on sets, why his debut film Chocolate failed, and much more.
There appears to be a lot more to Dhan Dhana Dhan Goal than just football.
Goal is about human drama. It is about the triumph of the human spirit when adversity strikes. Football is merely the medium to express this idea.
In the last five years, we have witnessed a lot of celebration in terms of Indian engineers and other professionals. We have found our space in the emerging global world. But the space is limited to a certain strata of society. My film doesn't deal with the rich, affluent people outside India. The Asians living outside India is a huge percentage. We always take into account the crème de la crème of the society but there are others working as waiters, barbers, newspaper vendors... Some of them are illegal immigrants, people are struggling to make ends meet and some are living below the poverty line. They'd be more comfortable in India but they are living there with some hope. Goal deals with this through football.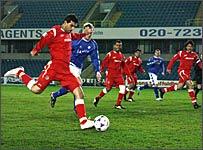 Does it get preachy at any point?
I don't believe in preachy films. I don't like such films. Having said that, I don't even enjoy films that only 'entertain'. That way, even the circus entertains. Our films have to entertain without the viewer being guided to a humdrum set of do's and don't's.
At the same time, as a filmmaker, my films should evoke some feelings, some thoughts in their minds. That's the purpose of cinema. It has to be a learning experience without advocating rights or wrongs in a subtle manner.
Do you see brighter prospects for Goal, given that Chak De! India turned out to be such a phenomenal hit?
If Goal had come first, it would have helped Chak De. But now that Chak De has released, it will help Goal. We started shooting before Chak De; we announced our film before they did. If things had gone well, we would have released it on August 10, along with Chak De.
The USP of Goal is its script. It's fantastic. But people shouldn't expect anything out of the world. Goal is a simple film, told from the heart. And everyone has surpassed my expectations in this one.
Do you think audiences are more receptive to sport films after Iqbal, Lagaan and Chak De?
There haven't been too many sport films but they have always clicked with audiences.
I guess whenever we have made a film based on sports -- whether it was Hip Hip Hurray, Naya Daur or Jo Jeeta Woh Sikander -- the films have always been well received. People enjoy such films.
Tell us about Bipasha Basu's role.
Bipasha plays Arshad Warsi's sister in the film. She is a physiotherapist. Every football team requires at least a coach and a physiotherapist.
The football team in my film cannot afford anybody so they have to choose someone they know. Bipasha comes free of cost, and so they hire her.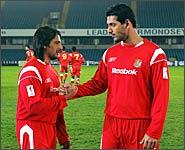 What about John Abraham and Arshad Warsi?
John and Arshad play contrasting characters. Arshad plays a Pakistani who just wants to just save the pride and honour of his community while John doesn't care about his community. He wants to belong to the English community.
Saif Ali Khan was your original choice for the film.
Making a film is not about one person. It involves a whole lot of permutations and combinations. Everything has to fall in the right place. So for a variety of reasons, it didn't work out. One of the reasons being Saif didn't have additional dates for training in the UK.
So John fits the bill perfectly?
Most definitely! I believe when your ideas are pure and honest, when you give your heart to something, God automatically propels you in the right direction. I think John happened that way. Moreover, he is an avid soccer fan too.
Apparently, John and Arshad couldn't see eye to eye on various issues.
Yes, because very often we used to shoot during the day, and they were required to wear sunglasses (laughs).
The fact is we had great camaraderie amongst us. This is all hogwash and there's no truth into it.
What happens is in the film their characters keep fighting with each other. Since we had decided to keep the media at bay, someone had to obviously cook up something sensational. So somewhere some English journalist saw something like that and put it on the website.
But there's no smoke without fire.
There's no fire here!
Even Bipasha and Arshad are rumoured to have fought? They supposedly had a massive showdown when Arshad reported late on sets.
Showdown or no showdowns, I don't understand how they impact a film's release and its quality. What makes it so relevant? How does it make a film successful?
The purpose of making a film is that it should inspire people and that they should get value for money. The media went berserk speculating if John and Bipasha were seeing each other or if they had broken off. It couldn't get more ridiculous.
We hear that Raj Zutshi wasn't too happy with his part in the film.
Raj Zutshi has got the best part in the film. He has probably got the best part in his entire career. He's like family to me. We are like brothers.
Yes, he has a reason to be upset about something. We had shot a goal with him in the final match but I felt the need to cut the scene. That's absolutely my decision. Nobody in the world can question that and a professional actor can never be unhappy about it.
Tell us about football choreographer Andy Ansah.
There is no one quite like Andy Ansah in the world. He is a football consultant choreographer. He is a very expensive person as per Indian standards. He is a football legend; he has been a premiership professional football player. His contribution to the film is immense and cannot be put in words.
I am saying this in all humility that Andy has helped us create a standard in sport films which no other sport film has ever been able to achieve.
Is Goal inspired by the Munich tragedy of the Manchester United team. Is it based on that real life plane crash incident?
Yes, it is hugely inspired by the crash. It really motivated me as a person. It left a deep impact on my mind. It always intrigued me that how a team which suddenly vanished from the earth gathered the courage, rebuilt itself and became top champions again. Hats off to such spunk, character and vivacity!
It has been a guiding force for me in my life. Someone like Stephen Hawkings who cannot talk or write, who is confined to the wheelchair, is the biggest scientist ever in the world. Such real life winners have always inspired and fascinated me.
So Goal is about victory and bouncing back to life when you're at your weakest. It's about braving all odds and taking life head on.
Is it also the first film to be shot in the premises of Manchester United?
To the best of my knowledge, no one in the history of Indian cinema has shot in the premises of Manchester United. So in that respect, we are the first. After a gruesome one year and three months, I got permission to shoot there. They kept me haggling till the last minute.
Chocolate released in 2005. What took you so long to direct again?
(Laughs) I'm very lazy and laidback. I don't want to work. People have to kick me to work. My next film is going to take six years.
Seriously, I am not the kind of director who'll make five films at a time. A lot of groundwork and pre-production has gone into Goal. It's a difficult film to make. We had to get the technical know-how right. It's not a run-of-the-mill love story that you can go ahead and shoot. Reebok itself took six months to design costumes for us.
In retrospection, what do you think of Chocolate today?
I think I should've made Chocolate after Goal. People would have perhaps looked at it differently. It came two years before its scheduled time. The multiplex culture had just started then. And things weren't the way they are now.
Today, we are more open to these kind of films. Chocolate should have been my third or fourth film. But all said and done, I am very proud of my first film. People think of Chocolate when they think of style and glamour. We created a certain kind of cinematic visual benchmark with Chocolate.
What next?
I have just started working on an idea which deals with the issue of global warming. It's a Harry Potter style film. I am yet to choose my cast and title.