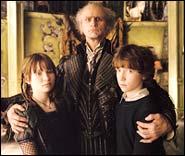 It wasn't as if top comedic stars were competing against each other, but in sheer box-office terms, Jim Carrey laughed all the way to the bank while Adam Sandler just couldn't translate his name into box-office success.
Sandler's Spanglish, which was aimed at adult audiences, was almost dead on arrival, with the $80 million film grossing just about $9 million in wide release.
On the other hand, the children-oriented Lemony Snicket's A Series of Unfortunate Events, starring Carrey, pocketed a decent $30 million. Based on three international bestsellers in the Lemony Snicket book series, the movie tells the story of three orphans who use their wit to defend themselves from greedy Count Olaf (Carrey) who pursues them relentlessly by assuming a number of identities.
It was the highest grossing film of the week, followed by Ocean's Twelve, which made away with a decent $18 million despite losing a worrisome 54 percent of the audience.
With two potentially lucrative holiday weekends ahead, Lemony Snicket ought to be a hit but it must also make big bucks abroad for the movie cost about $140 million, about $25 million of it going to Carrey.
The chances of Spanglish, which got mostly negative reviews, overcoming its poor opening is doubtful. Also biting the dust was aviation survival drama The Flight Of The Phoenix that opened at number eight on the chart, with a $5 million gross. A remake of the 1960s hit, the new film may not be able to recover its $45 million investment -- unless it proves to be an irresistible hit abroad.   
A story of a colliding and dysfunctional family, Albert Brook's Spanglish centres around Flor (Paz Vega), a beautiful Mexican woman, and her 12-year-old daughter who move in with an affluent but troubled Los Angeles family (Adam Sandler, Téa Leoni and Cloris Leachman).
'Whatever message Brooks was trying to put across with Spanglish,' complained New York Post, 'it clearly got lost in translation.'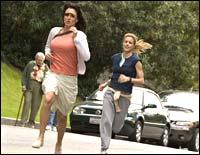 The New York Times grudgingly admitted Sandler, who got about $20 million for the film, had given a fine performance, adding that without him the movie 'would be not merely annoying but despicable in its slick complacency.'
Continuing to hold steady, The Polar Express, lost just about 11 percent, and with the holidays ahead, it stands a good chance of going beyond the $140 million initial forecast for it in North America. Hollywood insiders believe that the critically panned film can even reach $170 million, thanks to its charming special effects.
Several new films that opened in a limited run, and are expanding significantly on and around Christmas Day, did terrific business. But their real test will come only when they are playing on 1000 screens.
The screen-bio of billionaire aviator, movie producer and businessman, the ever-eccentric billionaire Howard Hughes is a huge, flashy and entertaining film that also carries substantial artistic qualities. Martin Scorsese's The Aviator, featuring Leonardo DaCaprio, earned about $830,000 from 40 theatres in New York, Los Angeles and a few smaller cities. But the movie, which cost about $110 million, has to earn at least $270 million from theatres and in DVD sales to break even.
Also in a limited run is the much-applauded Clint Eastwood film that cost just about $30 million. With riveting performances from Hillary Swank as a woman determined to be a boxer even when repeatedly told she is too old, and Eastwood as her reluctant coach, Million Dollar Baby celebrates a variety of bonds and friendships. In just about six movie houses, it grossed a pleasing $230,000 but even for a small budget film, it has to see at least $70 million to break even.
Box office estimates for North America, December 17-19
| | | | | |
| --- | --- | --- | --- | --- |
| Rank | Film | Weekend gross | Total gross | Number of weeks |
| 1 | Lemony Snicket's A Series Of Unfortunate Events | $30.2 million | $30.2m | New |
| 2 | Ocean's Twelve | $18.3 million (down 54%)  | $68m | 2  |
| 3 | Spanglish | $9 million | $9m | New |
| 4 | The Polar Express | $8.6 million (down 11%) | $123m | 6 |
| 5 | Blade:Trinity | $6.6 million (down 59%) | $35m | 2 |
| 6 | National Treasure | $6.1 million (down 38%) | $132m | 5  |
| 7 | Christmas With The Kranks | $5.7 million (down 25%) | $62m | 4  |
| 8 | The Flight Of The Phoenix | $5.1 million | $5.1m | New  |
| 9 | Closer | $3.5 million (down 3%) | $19m | 3 |
| 10 | The Incredibles | $3.3 million (down 32%) | $237m | 7  |