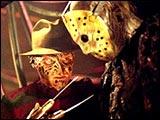 Surprising Hollywood experts who thought Freddy Vs Jason would top the weekend business with a $20-$25 million gross, the horror movie rode to the head of the box office chart with $36 million.
The R-rated film which combines two popular villains of the 1980s was one of the three new releases - all in the medium budget range of $20-$30 million - which opened to respectable business.
The other two new films which opened well are Kevin Costner's Open Range and Uptown Girls, starring Brittany Murphy. However, Grind, another medium budget film was dead on arrival. It was No 12 on the list.

By bringing together Freddy Krueger from A Nightmare On Elm Street and Jason Voorhees from Friday The 13th, New Line Cinema created quite a buzz for Freddy vs Jason. Gruesome images, plenty of gore and liberal use of voyeuristic sex proved a big draw for male audiences.

Disney had a very busy weekend, with four of its movies, Open Range, Freaky Friday, Pirates Of The Caribbean and Spy Kids 3, ensconced on the top 10 list.

| | |
| --- | --- |
| | More in Rediff! |
| | |
Most horror films drop significantly in the second week, but Freddy vs Jason could end with a potential $85-$90 million gross, with awesome video and DVD sale possibilities. Expect New Line Cinema to announce a sequel soon.
The movie's three-day gross exceeded the lifetime theatrical gross of director Ronny Yu's previous hit, Bride Of Chucky ($32 million in America), four years ago.

While last week's champ S.W.A.T. was pushed to second place with a 50 per cent drop, the film is shaping into quite a success.
Occupying third place was Kevin Costner's comeback film, Open Range, a Western made for about $25 million, about $5 million less than the cost on Freddy Vs Jason.  
Starring Kevin Costner a free-spirited cowboy opposed to a greedy and vengeful rancher, Open Range, which has a terrific performance by Robert Duvall as a sage of the Old West, could be the sleeper hit of the season.

It was followed by the Disney body exchange comedy Freaky Friday, which was fourth on the list. MGM's Uptown Girls is next on the charts. Yet another Disney film, Pirates Of The Caribbean, followed in the sixth place. By Wednesday, Pirates, which reportedly cost $140 million, could cross the $250 million benchmark. 
It was followed by American Wedding, which had a narrow lead over the 8th film on the chart, the sturdy Seabiscuit. Both films have grossed over $80 million and have their eyes firmly on the $100 million mark. The latter is also eyeing a number of top Oscar nominations.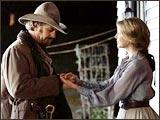 One more Disney hit, Spy Kids 3, was at ninth position, and was $3 million shy of $100 million. Spy Kids 3 is yet another summer movie that exceeded many predictions. Compared to the many big budget films in the range of $120-$140 million, Spy Kids 3 earned less than $40 million. 
It was followed this weekend on the box office chart by the comedy adventure Bad Boys II, which has reached a solid $129 million gross.