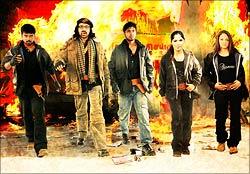 Pavithra Srinivasan reviews Sattappadi Kutram. Post YOUR reviews here! 
Director and producer, SA Chandrasekhar couldn't have chosen a better time to showcase his latest Tamil venture Star Makers' Sattappadi Kutram.
It is a rather daring political statement against what is supposedly a fictitious ruling party and its fraudulent, corrupt ways (there is a disclaimer right at the beginning).
With a host of stars and an entire battalion of ministers, parties, currency and political potshots, this movie hasn't hesitated to breach lines that other film-makers wouldn't touch with a bargepole.
Sadly, nothing in the screenplay capitalises on what might have been a potentially explosive situation.
Instead, the entire cast and crew decide to take up cudgels and drive home their "message" in the most juvenile way possible.
The story itself is a mishmash of some of SAC's older hits, Shankar's Indian, AR Murugadoss' Ramana, and host of other vigilante films, underdone and over-acted.
A group of young men and women, either jailed for "honest" crimes (such as murdering corrupt politicians), or abused by society (Thangaraj Vikranth) and Poorni (Bhanu) are  taken under the wing of an unknown do-gooder/activist.
He trains them in guerilla warfare deep inside the Sathyamangalam forests, complete with camouflage uniforms and provides them with arms that even the Indian Army would be proud of.
The background of this Che Guevara-like ideologist/activist, Bose (Sathyaraj) is itself revealed pretty soon, in a flurry of trite dialogues and clichéd situations.
He was once an honest Inspector from Thirunelveli who couldn't stand corruption and made an enemy of a future minister Ekambaram (Director A Venkatesh).
Having
lost his entire family because of his honesty, he now dons colourful scarves, shades, a Che Guevara hat, smokes cigars and takes to the forest to raise a revolutionary 'army' that will take back Tamil Nadu from its corrupt politicians and restore it to its people.
He does this by kidnapping IAS and IPS officers, judges and journalists in a single day. He gives them an impassioned speech about his motives and then hands his weapons to him thus making them all turn good in one single stroke!
But that's only the beginning!
SAC and dialogue-writer Prabhakar do deserve some credit for a few audacious dialogues, especially the courtroom scene where director Seeman makes an appearance.
These scenes receive well-deserved applause. But aside from these very minor interludes, much of the film is pretty tedious. 
None of the actors, even seasoned veterans like Sathyaraj and Radha Ravi, can save the situation even as the younger brigade like Vikranth haven't really much to do.
It's only director Venkatesh who brings some laughs with his villainous performance.
Vijay Antony's music barely lingers, while Anjaneyulu's cinematography just fits the bills.
The biggest drawback of this film is the age-old story, complete lack of logic and flawed screenplay.
Despite its earnestness, Sattappadi Kutram disappoints because of its juvenile presentation.
Rediff Rating: