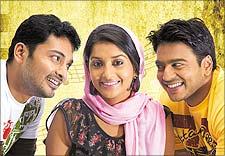 Paresh C Palicha reviews Malayalam film Mohabbath . Post YOUR reviews here!

Malayalam film Mohabbath -- directed by East Coast Vijayan -- is about  joint families, which are extinct in the Kerala society. The presence of Meera Jasmine who has become very selective in her appearance on the big screen, is one of the attractions of the film.

So is the experience of watching a film on a joint family worthwhile? The answer is yes and no. On one hand, this recycled love story cum family saga does have its moments and good performances that hold it together. On the other, it seems superficial.

The movie starts with an engagement ceremony with singer Hariharan, Roma, Sajana (Meera Jasmine) and Anwar (newcomer Anand Michael) singing and dancing. Anwar is a final year medical student in Bangalore and Sajna studies in a local professional college. They are cousins and their marriage had been fixed in childhood.

Sajana's college-mate Ameer (Munna) falls in love with her. As usual, their love story begins with a misunderstanding and turns into friendship. Sajna tries to explain her situation about being engaged and even insults him for being poor but in vain.

The story runs on the predictable track after the interval and expected tables turn and post-intermission Sajana's family becomes poor and Ameer has a windfall. Sajana's wedding is cancelled and Ameer comes in as saviour and revives his proposal through proper channels.

There is another twist in the tale. Anwar returns to their lives, leading the film to a predictable climax. 

The direction offers nothing new to sit with our full attention on the screen. This movie was promoted as a musical but the nearly half a dozen songs do not contribute anything to the narrative and act as speed-breakers in the flow of the story. 

Meera Jasmine has never been so gaudily made-up in her career. Maybe, she is trying to appear at 10-12 years younger than she actually is. This works against her.

Newcomer Anand Michael has no substantial role. He just appears for few minutes in the beginning and a few minutes before the climax. Munna on the other hand gets bulk of the screen time and the goody two-shoes role that works for him.

As for the rest of the supporting cast, Salim Kumar has a substantial role as a priest, who also teaches in college. Nedumudi Venu appears as a grandfather of the youngsters. Devan acts as Meera Jasmine's dad. Jagathy Sreekumar appears as the Man-Friday of Nedumudi Venu.

On the whole, Mohabbath is a film that works in bits and pieces but does not deserve to be called a Meera Jasmine film. So, it ends up being a disappointing venture.
Rediff Rating: