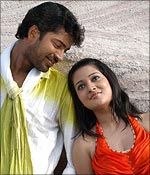 Allari Naresh's films have a certain kind of comedy; they are meant for the masses. All of them are entertainers, some have a message woven into it, and some are mindless.
Aha Naa Pellanta, his latest Telugu film, falls in the second category. It's one of those monotonous entertainers though Naresh tries his best to let the audience have fun while looking rather ridiculous.
Subramaniam aka Subbu (Naresh) is a software engineer who works with Brahmanandam. One night, he attends a party and finds a girl Sanjana (debutante Ritu Barmecha) in his bed the next morning.
Both are shell-shocked and part ways. Subbu has a girlfriend (Anita Hasnandani) already. Sanjana has three gangster brothers (played by Srihari, Subbaraju and Samrat), who are possessive of her. Now, they fix Subbu's wedding with Sanjana but Subbu doesn't want to marry her.
The audience has to go through the tedium to see who Subbu finally marries.
Yes, there are some hilarious moments, thanks to Brahmanandam and Srihari.
The film has a slender plot around which the film meanders. The situations created seem absurd and the dialogues dippy. Mercifully, the film is just about two hours.
Naresh is his usual self, trying to induce laughs as dictated by the script. Perhaps a change from this routine will do him good. A talented actor like him (remember Gamyam) should do better films.
Anita Hasnandani just needs to look glam, and she does.
Newcomer Ritu seems okay. The dubbing didn't seem to synchronise in some parts.
Srihari enlivenes the film with his dialogues in the Telangana twang. Of course one is used to this in his earlier films too (like Dhee). His scenes with Brahmanandam will go down well with the mass audience.
Subbaraju and Samrat do not have much to do though they do justice to whatever they have.
Nagineedu reprises his role as the patriarch.
Director Virabhadram's debut outing seems like an average fare.
Aha Naa Pellanta is a time-pass flick for the masses.
Rediff Rating: