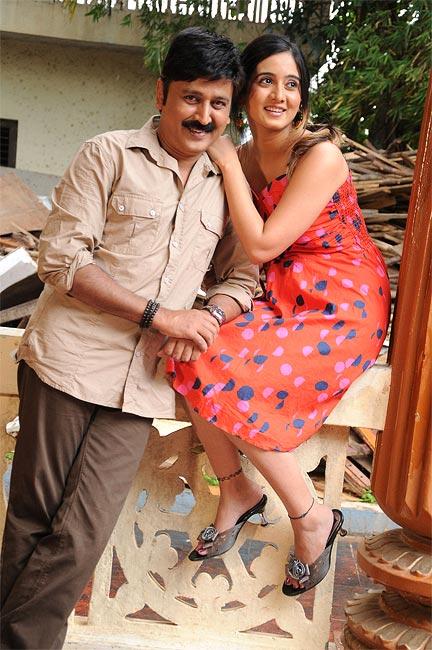 Popular Kannada actor Ramesh Aravind's latest fun film Mangana Kaili Manikya (A jewel in the hands of a monkey) is ready for release.
Eminent Kannada theatre person Rajendra Karanth, who has written scripts for films, is making his bow as a director.
Says Karanth, "Mangana Kaili Manikya is basically a fun film and is essentially picturised as a film within a film. The movie is about a director and a producer who are all set to make a film before a rift between the two separates them. The project lands in the hands of another director played by Ramesh Aravind."
Karanth says that following the rift, when the director leaves the project in a huff, he challenges the producer to complete the project without him.
The producer has to deal with the new director who has several personal relationship problems. "Ramesh Aravind's character is all about how he handles the situation without letting others know what he is going through," Karanth clarifies.
There is no deliberate attempt to make people laugh. "There are comical situations but they are done seriously. There are also emotions at play and we have tried to inject some intelligent humour to attract the middle-classes who have stopped watching Kannada films. There is comedy for the front benchers as well," he says.
Actor Ramesh Aravind says his role "is a dream role for an actor as it tests your acting skills and at the same time it gives an actor a lot of scope and variety to perform."
Ramesh Aravind plays a paranoid hypochondriac who gets tense at the drop of a hat. "He keeps on swallowing tablets without knowing what it is meant for and lands in difficult situations," says Aravind.
The popular actor says that Mangana Kaili Manikya is not a typical comedy as the lines are not written typically for a comedy. "Humour is not underlined and if the audiences miss the punch, they miss it."
Upcoming popular actress Harshika Poonacha, who was also a television anchor, plays Ramesh Aravind's love interest in the film. "I play an assistant director in the movie who is a smart and intelligent girl from a rural background but with dreams of becoming a director," she says.
Popular television actor Ravishankar Gowda, who is now into films, plays Ramesh Aravind's close friend.
"I play the director's close friend who is determined to get work for the director because I would also benefit by taking a cut from the producers before the director gets to sign," he explains.
The film is shot in Bangalore, Bidadi and Mysore. Rajesh Ramanath has scored the music. J G Krishna is the cinematographer. Sandesh Nagaraju is the producer.