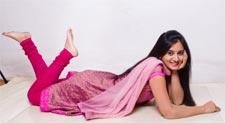 Harshika Poonacha is on a high as she is getting to play a double role in the ambitious project
Crazy Loka
. Harshika has one of the lead roles in the film and is also assisting director Kavitha Lankesh.
"I always wanted to try my hand at assisting a director and finally I got the chance. It's an added advantage that Kavitha is a woman," says Harshika.
She finds her work as an assistant director more "electrifying" than that of an actor. "I've been assisting the cameraman by taking notes on focal length and scene numbers, jotting down costume changes and continuity. I've realised that direction is a challenging job as you need to ensure that other people follow you."
Harshika feels she is getting the hang of the job and is quite chuffed at Kavitha saying that she would in future give
her competition.
There's another advantage to being assistant director for this film. "The film stars Ravichandran, who is also a great director. So it's like having two established directors to guide me. I make mistakes and have people who will correct them. From Ravi sir I'm learning how to explain a scene to an actor before he goes for the shot," she says.
As for her role in the film, Harshika plays the love interest of Ravichandran's son, Surya, a newbie who has trained at Subash Ghai's film institute in Mumbai.
The story revolves around Surya and Ravichandran. Ravi returns to college for some reason and the film shows what happens when both father and son attend the same college. A shuttle match between father and son is what you have to watch out for, among other things, adds Harshika. Ravichandran also has a love interest in the film. Daisy Bopanna is cast opposite him.