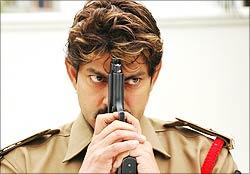 Radhika Rajamani reviews Chattam. Post YOUR reviews here! 
Director Arun Prasad seems to have had all the good intentions of making a good film. Unfortunately the path he takes is not very appealing.
Effectively, the Telugu film
Chattam
ends up being just another cop story even thought there is an honest n attempt to relate it to current happenings.
Jagapati Babu plays the corrupt Circle Inspector Gowri Shankar. We see him drinking, making money with his subordinate Ranga (Jeeva) in tow all the time.
Vimala Raman plays an aerobics instructor who is Jeeva's daughter.
In the first half, there are some bizzarre incidents like an acid-throwing incident and a child being kidnapped and killed by drowning the child in a cauldron of boiling liquid! There's a CID enquiry whereby the officer in charge (Murli Sharma) frames Gowri as the accused just before the interval. 
It's in the second half that the story picks up .
If
the director's intention was to appeal for a reform in the legal system, he could have taken a better path to show it. The rhetoric at the end is fine but one has to endure endless number of sensless scenes to get to watch to the sensible stuff that in the climax.
In the process of making the film contemporary, the director has even resorted to a footage from television and made a mockery of the anti-terrorism squad in-charge.
The director seemed to have bowed to commercial pressure to include unnecessary songs.
For Jagapati Babu, reprising the role of the cop must have been easy. He does so with elan. It's in the climax scene that he shows his mettle, more so with those punchlines for dialogues.
Vimala Raman is more or less wasted in the film. The chemistry between her and Jagapati Babu is not as sizzling as it was in
Gaayam 2
. Murli Sharma seems inept for his role though he does a decent job.
Even though it sends out a strong signal for legal reforms Chattam suffers from a weak script and poor direction
Rediff Rating: