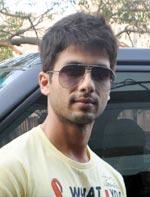 The sequel to Tanu Weds Manu will have to wait. The very talented Tanu Weds Manu director Anand Rai has decided to go ahead with his other pet project Ranjhana with Shahid Kapoor [ Images ] in the lead.

Ranjhana is Rai's dream project. A subject that he has nurtured for years, Ranjhana is being described as an epic love story set in the North Indian cities of Varanasi and Mathura in Uttar Pradesh [ Images ].

Shahid is apparently so impressed by the idea that he has agreed.

Says a source, "Anand was keen that Shahid play the title role in Ranjhana. It's the kind of passionate and intense love story that comes along once in a while. After doing Mausam, he was fascinated by the story of intense passionate desperate love. Ranjhana will take him back into that space again."
When contacted, director Anand Rai said, "Yes, Ranjhana is a subject very close to my heart. I may be going ahead it before Tanu Weds Manu Season 2. As for who's doing the title role at the moment, I cannot comment on that."