World Champion Viswanthan Anand defeated Francisco Vallejo Pons of Spain in the 10th and final round to avoid a last-place finish at the fourth Final Masters chess tournament in Bilbao.
Languishing at the bottom of the table at the start of the final round in the six-player double round-robin event, the onus was on Anand to come out with flying colours and for once, Vallejo's luck in the tournament deserted him as the Indian scored his second victory against the Spaniard. 
Interestingly enough, Vallejo was Anand's sole prize catch in the tournament as the World champion could not beat any of the other four contestants in the fortnight-long event spread over Sao Paulo in Brazil and in Bilbao.
Magnus Carlsen of Norway came true to his words and won the title after wining the blitz finale against Vassily Ivanchuk of Ukraine, who led the tournament right from the beginning.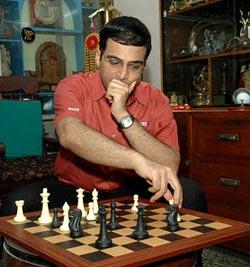 Anand, Levon Aronian of Armenia and Hikaru Nakamura of United States tied for the third spot while Pons had to be content with the last place finish despite showing some incredible results. 
Carlsen settled for a draw in the 10th round game against Nakamura. His closest rival for the title, Ivanchuk also drew his last round game against Aronian to set up an exciting blitz finale that the Norwegian won by a 1.5-0.5 margin after winning the second game with black. 
For Anand, it was clear that the foremost thing on his mind at present is the next World championship contest against
Boris Gelfand of Israel. Anand was far from impressive here, where he beat Vallejo  twice, lost to Ivanchuk and Aronian once and drew the remaining games to finish with a 50 per cent score.
In the last game against Vallejo, Anand was at his technical and tactical best though in a Slav defense game playing white. Vallejo went for equalising early that was not forthcoming as Anand kept on increasing his initiative on the king side. The Indian ace eventually won a pawn and romped home in just 39 moves.