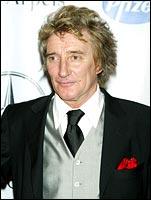 Twenty-five years since topping music sales in America with 1979's Blondes Have More Fun -- the album that spawned the phenomenal hit Do you think I'm sexy -- Rod Stewart has topped the Billboard charts again, reports The New York Post.
Stewart has moved on from his earlier image of a charming, cocky womaniser wearing tight trousers and velvet boots, and his new album is a compilation of covers, performed in collaboration with a range of guest stars.
Stardust... The Great American Songbook Vol 3 is what the industry calls an album of 'standards', meaning reissued covers of classic tracks, and includes the 59-year-old rocker crooning Blue Moon with Eric Clapton on guitar and What a wonderful world with Stevie Wonder on harmonica. In its first week, it sold 240,000 copies across America.
This is Rod's first ever album to debut at the top spot.
This week's Billboard Top Ten: Rod Stewart's Stardust . . . The Great American Songbook: Volume III; Nelly's Suit; George Strait's 50 Number Ones; Usher's Confessions; Ray Charles' Genius Loves Company; Jimmy Eat World's Futures; Brooks and Dunn's The Greatest Hits Collection II; Celine Dion's Miracle; Hilary Duff's Hilary Duff; Tim McGraw's Live Like You Were Dying.
Photograph: Getty Images