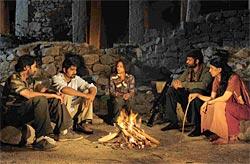 Radhika Rajamani feels Telugu film Virodhi is a meaningful tale. Post YOUR reviews here.

Neelakantha portrays human emotions differently in every film. In Virodhi he has chosen the contemporary theme of Naxalism as the backdrop, against which the human drama is played out. The director has been careful not to take sides or espouse the Naxal philosophy, but remains neutral.

The film explores its different characters. Gopi alias Gogi (Ajay) who becomes the leader of the dalam is committed to the revolutionary path and doesn't mind killing people for the 'cause'.

Hari (Kamal Kamaraju), a post-graduate in political science, is second to Gogi in the dalam and wants to bring about change in society. Ramdas is the senior most member and guru of Gogi who gets injured in an operation. Myna (Ramya), is a victim of caste politics whose parents are burnt in front of her and that is her motivation to take the Naxal route.  
There's Rehana, a nurse who joins the gang but does not subscribe to their ideology. She has a relationship with Ajay who she nursed when he was wounded. There are others too; the dalam draws in people from different backgrounds.
Jaidev (Srikkanth), a journalist who exposes the corrupt deeds of a politician (Ahuti Prasad) is present when the politician is killed in a Naxal attack. He is kidnapped by the gang. Gogi wants to kill him but others advise against it.
Jaidev gets to see the dalam members up close and learns of each person's background, and begins to understand their turmoils, tribulations and their emotions.
The film is realistic to a large extent. Some things could have been explained more clearly, and the ideology at times seems a bit unconvincing -- it's not clear whether people are really bound by it or not.
Neelakantha's main aim seems to be the emotional journey of this group rather than their ideological moorings. But the pace of the movie see-saws throughout.
The film is brilliantly shot by H M Ramchandra, the man who shot Girish Kasaravalli's Dweepa and won a National Award for it. Ramchandra has captured the terrain and the journey well and given it a raw and edgy feel.
R P Patnaik's background score is good and the song in the climax Edi Satyam (lyrics by the well known late Sri Sri) is particularly good and memorable.
Srikkanth plays Jaidev in a subtle, understated way and is convincing as the journalist. Ajay stands out for his portrayal of the impetuous Gogi. Kamal Kamaraju fits the role of Hari perfectly and turns in a fine performance. Ramya, Sivaji Raja, Kiran Varanasi, and Ravi Varma chipped in with good performances.
Virodhi is a contemporary, meaningful tale that needs encouragement from viewers.
Rediff Rating: