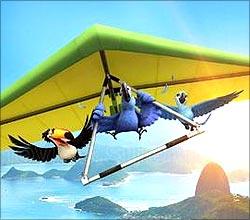 Sukanya Verma reviews Rio. Post YOUR reviews here!

In the world of toons, disability and phobias are treated with a little bit sensitivity and a great lot of adventure. And so whether it's Dumbo with his exceptionally enormous ears, Nemo and his 'lucky' fin or a discordant Mumble's much-disapproved flair for tap dancing, they've all applied these so-called drawbacks to their advantage.

Although 3D feature Rio's feathery hero Blu (Jesse Eisenberg), a Spix's Macaw never achieves the greatness of the afore-mentioned fellas, he ensures a delightful hour and a half with his nervous natter and uncharacteristic ways. For one, he doesn't know how to fly.


There's no pixie dust to get him off the ground either. Instead he's a home-schooled, hot-chocolate sipping, physics genius -- a spectacle-free extension of his nerdy and kind mistress, Linda (Leslie Mann) since forever, alright, make that 15 years. 

Earlier reels explain how a freak accident brought him to a sleepy town in Minnesota where Blu and his favourite girl now lead a comfortable and cozy existence until a Brazilian scientist lands on their door urging them to fly with him to Rio, allowing director Carlos Saldanha to take a break from the pasty appearance of Ice Age movies to offer a eye-catching tour of his hometown whilst providing a spirited backdrop to/of Rio.

As it turns out, Blu is the only surviving male of his species and is expected to save his kind from extinction by mating with Jewel (Anne Hathaway), the only female in that order. Only Jewel is no eyelash-fluttering Daisy but a fiendishly feisty Brazilian babe, bringing her claws out at any swaggering cockatoo in sight, including Nigel (Jemaine Clement excels in a generating marmalade-smooth menace). The latter, of course, is the quintessential villain of this piece taking a march (flight?) over his human counterpart. Like a ubiquitous henchman on their trail, this bitter ex-star of a popular bird show refuses to rest till he's delivered the cerulean Macaws to a typically greedy poacher.  

So what's the deal? The macaws have to mate. The cockatoo has to stop them. The poacher wants the birds. The bumbling sidekicks don't care. The birds want to escape. Linda and the scientist are on their own trip. There's an orphan suffering from conscience imbalance issues. Also, not too long afterwards we run into a cardinal, a canary, a toucan and a seriously slobbering bulldog. Wait, did I mention big and burly gangs of pick pocketing, pelvic-thrusting monkeys?

Clearly, Rio has a *lot* on its mind. This is both fantastic and fatiguing.

While there's absolutely no dearth of visual attractions, a wild assortment of lively humour and cultural clichés like Brazilian beaches, carnival parade, Christ the redeemer, samba, romantic trams, the works, Rio's optic verve and meticulous computer graphics wouldn't be half as effective if not for its terrific voice cast.

Anne Hathaway's Jewel is a well-composed mix of puckish glamour and alluring aggression. Whereas Eisenberg moves away from his cold, hasty talking style from The Social Network to acquire an adorable James Stewart-inspired panicky tone complimenting Hathaway's bossy aura in more ways than one.

Others like Clement, George Lopez, Tracy Morgan, Jamie Foxx, Leslie Mann and Will.i.am lend the funny to their lines through their respective cameos, even if the spectacular quotient isn't enough to rank them alongside memorable subordinates like Thumper, Flounder, Dory or Kaa, which brings us to the flip side of Rio.

The narrative, owing to its unstoppable pace, doesn't concern itself too much with character or subplot development. Saldanha never allows us to feel personal about Blu or his limitations. There's hardly ever a trace of discontentment or alienation in his body language. And because there is no emotional attachment to him, one experiences no real joy in his triumph either.  

Moreover, the screen is cramped with so many characters and the constantly popping humour, there's already too much to keep up with. Luckily, even at its gimmicky best, Rio is entertaining enough to forgive its refusal to soar any higher.

Rediff Rating: