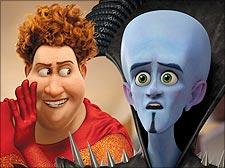 Elvis D'Silva reviews Megamind. Post YOUR reviews here!
 
I suppose it makes sense to target kids on Christmas vacation with an animated movie. Guess it's too much to ask for the filmmakers to actually consider whether the film they will be presenting as must-see fare for those that wield the Pester Power in a household is actually intended for children.
 
Which is how we end up with Megamind in movie theatres this holiday weekend with a voice cast that comprises the likes of Tina Fey, Jonah Hill, David Cross, Brad Pitt and Will Ferrell. Wow, isn't that cool? Both halves of Brangelina have a film opening on our shores this weekend. So is this one any better than The Tourist? That depends on how low you've set the bar for your entertainment this weekend.
 
There are a few things you can expect from a Will Ferrell movie -- pratfalls, pop culture references, words shouted loudly in the hope that somehow volume will make whatever is being said funnier; and... oh sure, maybe sometimes there will even be a plot. The routine worked pretty well for the tall 'comedian' for a while, but the joke has worn a little thin over time. So it must have made perfect sense to diversify into voicing the lead character on an animated movie.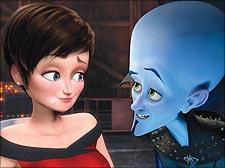 Megamind (Ferrell) is the arch villain who plagues Metro City and is constantly dueling with Metro Man (Pitt),

who is the superhero saviour of this fictional city that looks like a shiny amalgam of the fictional Metropolis and the real New York City.
 
Megamind's evil designs quickly remind us of how much more fun they were when carried out by Gru in the recent animated comedy Despicable Me (which was also about a super villain who feels like he hasn't got his due).
 
The first problem with Megamind is that it looks like the type of movie that could have been made as a live action film. Brad Pitt in a cape and costume? Will Ferrell wearing a giant blue head? These could have been funny images. Images that don't feel all that special in the animation world. Even in 3D.
 
The plot development is strictly by the numbers and unlike Despicable Me, this movie does not feature loveable characters.
 
Megamind might be a better alternative to The Tourist, which also releases this weekend, but that doesn't make it a good movie. It is strictly for those people who feel like they just have to go spend some money at the multiplex this weekend.

Rediff Rating: