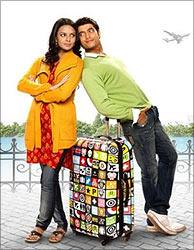 From Sydney With Love is a half-baked tribute to Aditya Chopra and his tour de force Dilwale Dulhaniya Le Jayenge, writes Preeti Arora
There is a serious malaise affecting most newbie directors in Bollywood.
Dilwale Dulhaniya Le Jayenge
's charm just refuses to wear off for this particular crop of filmmakers who seem determined to pay homage to the film and to the director Aditya Chopra. While they are having fun, the dialogues which made youngsters swoon two decades ago now send the audience into a state of chronic fatigue.
So when I, a viewer is subjected to the hackneyed line "Raj, Naam to Suna Hoga" for thew hundredth time, my patience starts to wear thin.
Just one word of advice; even Aditya Chopra with his subsequent films hasn't been able to recreate the magic of his first film. Definitely time to move on.

Coming back to Prateek Chakraborthy's maiden outing as writer, director and one of the lead actors in From Sydney With Love, three hats to don simultaneously is something even veterans would hesitate from doing. Probably Prateek (grandson of the famous producer Pramod Chakraborthy) believed given his famous lineage directing a young happy zestful film wouldn't require too much effort.

So we have Megha (Miss High and Mighty) who lands up in Australia for further studies after her father utters the prized words 'mujhe tum par pura bharosa hai (I have complete faith in you)'. 'Bharosa' like promises is almost always broken. The aftermath of which is a considerable amount of pain and sorrow. The 'Bharosa' has now been compromised, virginity has been relinquished and the location must now shift to a small town in India.

Quite a pity because the one redeeming feature of the first half is the picturesque locations of Sydney captured in a competent manner by cinematographer Piyush Shah. The two best friends Raj (Prateek Chakraborthy) and Rohit (Sharad Malhotra) have both fallen madly in love with Megha (Bidita Bag) in the short span of six months.

Megha for reasons best known to her conveniently forgets all about the huge amount of money her father has borrowed for her education and decides to return to India. Raj and Rohit who're quite upset at her abrupt departure follow her. There seems to be no solution to the many problems Megha has in her life, irate father, a mother who's a heart patient, a suicidal sister and the financial stress enveloping the family.

So one of them stays back and the other takes the first flight out. Is it correct to leave your loved one at a point when they need you the most? And even if your loved one makes a mistake, should you forgive and forget? Or tell him or her to take a hike?

It's these age-old dilemmas confronting the hip-n-happening lot who've just relocated from Sydney. Of course the story isn't all melodramatic mush. There is a concerted effort been put into the script to ensure you laugh at least once in every two reels.

Apart from the cinematography there's one hummable number Ho jayega which stays with you even after the film has ended. Everything else about this fam-com (a comedy for the entire family) is best forgotten.

With a running time of two hours and eighteen minutes, this one is best avoided. Do gift the DVD to friends whom you never want to meet again. Hopefully they'll get the hint…

Rediff Rating: