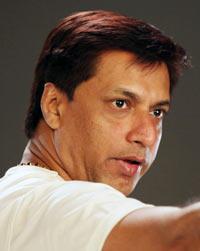 Filmmaker Madhur Bhandarkar can finally heave a sigh of relief.
Starlet Preeti Jain, who had accused him of sexually abusing her in 2004, withdrew the case against him.
Bhandarkar claims he was 'overwhlemed' by the verdict.
He
told a news channel that it was 'always a false case but still he had to fight for eight years.'
In July 2004, Jain accused the
Heroine
director of sexually abusing her from 1999 to 2004 with the false promise of marriage and a role in his upcoming films.
The following year, Jain was arrested and charged with conspiracy to murder the director. She was later released on bail.