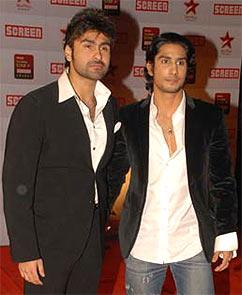 Veteran actor Raj Babbar's sons Aarya and Prateik have hit a low patch in their respective careers. And the concerned father is on the lookout for a vehicle that would star his sons together.
"As a father, I want the very best for my children," says Raj Babbar. "I know how talented Aarya and Prateik are. It's just that they aren't getting the right opportunities. I'd like to create that opportunity for them."
Raj Babbar says he is on the lookout for a project, where his sons will play brothers.
"I know Aarya and Prateik can play off well against one another, and I am searching for a script and a director, who would be able to make a film where both my sons get equal opportunities," he says.
About their careers not doing well, Babbar says, "Who can predict which way an actor's career would go? I started my career as a villain before playing leading man. My sons are talented. They will be back."
In the picture: Aarya Babbar and Prateik. Photograph: Pradeep Bandekar