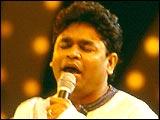 The gasps that greeted composer A R Rahman when he took the baton to conduct the City of Birmingham Symphony Orchestra (CBSO), were not just directed at his musical abilities.
| | |
| --- | --- |
| | Don't Miss: |
| | |
Of equal interest to the audience that packed the 2,200-seat auditorium in Birmingham city centre was what appeared to be  the 38-year-old Rahman's decision to adopt a punk hairdo. After the two concerts last Friday and Saturday, Rahman explained to friends that his shorn locks were in preparation for his recently concluded pilgrimage to Mecca.
Rahman's appearance at Symphony Hall headquarters in Birmingham is believed to have pulled in what is believed to be the largest ever non-white audience for a mainstream British orchestra. Delighted orchestra executives say the demand for seats was so high, they could have sold three times as many seats as they did.
Audience reactions to Rahman's music, however, were more mixed. Although the orchestra played music from some of Rahman's better known compositions, including Bombay Dreams, Lagaan and the upcoming Meenaxi, other selections from Columbia Pictures' Chinese film, Warriors Of Heaven And Earth, were less familiar to overseas Indians' ears.
This week Rahman is in Pargue to record more music for Warriors Of Heaven And Earth with the Czech Film Orchestra before going to New York, where he will rehearse a fresh selection of songs for Bombay Dreams.