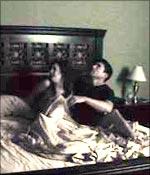 Paranormal Activity, which stands at number five on the American and Canadian box office charts, may be arguably the biggest success of the decade.
The movie, which cost an unbelievably low $15,000 (less than the cost of a minute of screen time of a big budget Hindi film), grossed about $7 million from just about 160 screens in North America. It started with midnight screenings on college campuses three weeks ago with little Internet advertising.
Even if it were to drop by 50 percent in the coming weeks, Paranormal may end up with at least $20 million in North America, with the possibility of doing better business abroad.
Many people, including critics, are comparing it to The Blair Witch Project -- another film costing hardly anything, which came from nowhere, built a cult following, and then burst into the mainstream and earned about $250 million worldwide in 1999. That horror film was made for $60,000 and caught on with the younger viewers thanks to the Internet buzz. It made about $29 million in its opening weekend in North America.
Hollywood insiders do not expect Paranormal to be as huge a hit as Blair Witch but the former has already become hugely profitable. A movie has to earn (in theatres and through ancillary sales) about 50 percent of its production and advertising costs to break even.
The lovers of psychological thrillers and horror movies may readily confess that Paranormal is not Rosemary's Baby, the classic horror film directed by Roman Polanski. Most of the reviews for the new film aren't inspiring. But word of mouth has been strong.
Israeli-born writer-director Oren Peli, a video-game designer for about a decade, shot the film in his house in Los Angeles with hardly any money, no stars and no studio backing till the film was shown at the Sundance film festival.
Peli tells the story of a middle-class San Diego couple Micah (Micah Sloat) and Katie (Katie Featherston) haunted by strange noises in their new home. Micah sets up night-vision camera and a roving camcorder in their bedroom. Katie has a history of otherworldly encounters, going back to her childhood. The young couple also calls a psychic. But their problems just get louder and scarier.
It is not that all critics disliked the film. Los Angeles Times' Betsy Sharkey wrote: Peli 'has created a psychological thriller of such small scale and yet such heightened effect that no doubt Hitchcock, wherever he may be, is smiling.
'Though the story does not have either the sophistication or the complexity of the master, the first-time director understands that it's what you don't see, and the way in which you don't see it, that counts.'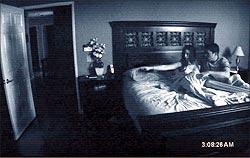 Roger Ebert wrote in Chicago-Sun Times: 'An ingenious horror film. It's so well made it's truly scary.'
MTV.com, which is owned by Paramount, gives credit to the film's success to the grass-root strategy by the studio-distributor.
When Paramount started showing the film on campuses, 'it also harnessed the power of social gathering through sites like Twitter and Eventful, fans,' MTV com said. Students in the cities that the film was not showing were encouraged to 'demand' midnight shows. 
On the Website for the film, Paramount declared: The first-ever major film release decided by you.
With the Internet and word of mouth creating huge publicity for the film over a month, Paramount took the first big step of releasing the film for regular screenings. Next week, the distributor could expand the film to 300 screens or more.
The movie could have been released two years ago when Steven Spielberg and other DreamWorks executives first saw it. Focus screenings also created a big buzz for the film then.
'Unfortunately, business got in the way when Paramount and DreamWorks split in 2008, and the Paranormal release was delayed,' notes MTV. Com  'Buzz was out though, and it wouldn't be silenced. It only grew through Paramount's -- who took the reins post-DreamWorks -- aggressive grassroots campaigning.'
Paramount, which also released Rosemary's Baby more four decades ago, is indeed lucky. With Paranormal, it could have one of the most profitable films of all times.