Home > India > News > First Look


MTV office in Mumbai attacked

June 16, 2008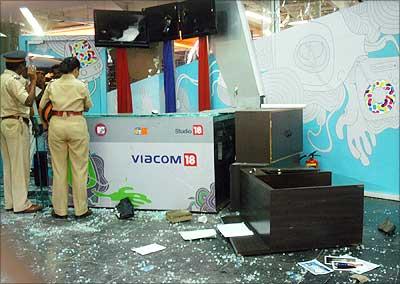 A group of Sikhs vandalised the office of popular music channel MTV in central Mumbai alleging misrepresentation of their community in a recent publicity campaign, the police said.
Over 100 protesters who damaged property at the MTV office in Parel were detained by the police for various violations, including unlawful assembly, they said.
The activists have broken a few window panes and some office stationery in the protest, they said.
In a recent publicity campaign to promote a reality show, MTV has used the visual of a Sikh peeping into a room where a girl is giving body massage to a man, police said, adding that the hoardings also have a line which was found to be in bad taste by the Sikh community.
Photograph : Arun Patil