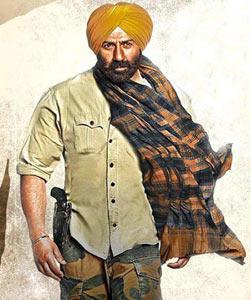 The Singh Saab The Great soundtrack follows an expected template and delivers a couple of songs that should do quite well, says Joginder Tuteja

Traditionally, director Anil Sharma's films haven't really been sold as musicals since most of these are action packed dramas.

However, his last film Veer was an exception where he included some good music.

One doesn't expect similar outcome from Singh Saab The Great since the theme and cast doesn't quite warrant a chartbuster score.

Still, with six songs in an album where music composer Anand Raj Anand teams up with Sonu Nigam and Sameer Anjaan, one looks forward to the music.

Sonu Nigam kick-starts the proceedings as a singer-composer for the title song Singh Saab The Great. He modulates his voice to a great degree, and gives the song a very Punjabi feel. It isn't one of those bhangra numbers, as lyricist Kumaar brings in a folk-religious flavour to it. This separates it from the clutter of Punjabi numbers that appear in every other film.

Sonu is complimented by Teesha Nigam, who reminds us of singer Jaspinder Narula's husky voice.

A celebration number follows, and from this point, Anand Raj Anand takes over as a composer.

Sonu Nigam gets romantic here, and has fun while at it.

A 1990s style composition where a hero is gulping down a few drinks even as the friends join him in the revelries, Daaru Band Kal Se is the kind of song that will find audience for itself. It's no wonder that it is repeated in a remix version.

Sunidhi Chauhan's Palang Todh appears a tad forced. A number that doesn't deserve room in a Sunny Deol film, this is a rustic item number, aimed at audiences in the interiors. This is the only song in the album that is written by Sameer Anjaan, and one hopes it doesn't break the flow of the film's narrative.

Shreya Ghoshal gets behind the mike for a celebration number called Jab Mehndi Lag Lag Jaave. Boasting of the kind of sound that one associates with an Anand Raj Anand composition, this one is a fast Punjabi number.
Expect this song to become popular in the wedding season. When Sonu Nigam joins the proceedings, it turns out to be a fun celebration number that should enliven the proceedings in the film.

Up last, is a Sonu Nigam solo, Heer. This song is easy on the ears, primarily due to Sonu's silken voice. The kind of clarity in his voice coupled with Anand Raj Anand's simple composition ensures that one will work quite well.

Singh Saab The Great has a decent soundtrack, which follows an expected template and delivers a couple of songs that should do quite well. Though a song like Palang Todh could have been avoidable, it is compensated by other better tunes.

Rediff Rating: