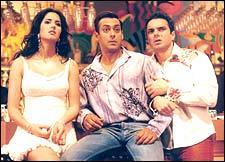 If you thought the controversial Salman Khan tapes were enough to cause problems for his latest release, Maine Pyaar Kyun Kiya, you were wrong.

After the BJP led strong demonstrations against the film in various parts of India, forcing some theatres screening the film to cancel shows, Mumbai-based tabloid Mid-day claimed the film was a flop four days after it released.

Soon after the story was published, director David Dhawan, along with the film's distributors, held an urgent press conference and claimed the story was baseless.

According to Dhawan, MPKK was holding steady all over India and had earned Rs 2,13,23,471 in the first four days of its release from Mumbai and its suburbs only.
No stopping Salman at box office 
He said, "It is performing very well in other centres in India too. I think Mid-Day should have waited for seven days before writing off my film at the box office."

He added that, while page six of the newspaper said the film was a flop, the next page carried an article saying MPKK had started with a sonic bang and the film industry was on a roll.

"They are contradicting their own article in the paper. It is a highly responsible paper. They should have not done this to my film," said an upset Dhawan.

The article had quoted Niranjan Prakash, group leader (sales and marketing), Fun Cinemas at Fun Republic, saying the film was a dud and was performing below expectation.

But Prakash, who was also present at the press conference, refuted the story. "The statement and the story was doctored. I never said those words to the reporter," he clarified. "In fact, we are planning to send a legal notice to Mid-Day because they misquoted me. MPKK is scheduled to be a comfortable hit. It will have a very encouraging collection with an average 80 percent occupancy in our theatres."
Trade analyst Komal Nahta confirmed, "The film had excellent opening and it held on till Monday. It is too early to judge whether it will be a hit, but I can definitely say it this will earn for everybody."

Vinod Mirani, also a trade analyst, added, "The film had a good opening and was holding well. Besides Mumbai, it is doing well in Delhi too."
MPKK first ran into trouble soon after was released. The BJP took umbrage because the film starred Salman, who allegedly told his then girlfriend Aishwarya Rai over the phone in 2001 that he had underworld connections and threatened her to do a stage show for underworld don Abu Salem. A transcript of the conversation surfaced in a Mumbai daily last week.

Salman has denied the taped voice belonged to him.
David Dhawan and MPKK's heroine Sushmita Sen met BJP leader Gopinath Munde and requested him to tell his supporters not stop the film's screenings.

Munde gave his assurance, as there were nearly 3,000 families depended on the film's success.

"The film did well inspite of all the protests and this itself is quite an achievement," Dhawan said. "Nearly 30 shows were stopped all over India but that did not deter people from coming to theatres in large numbers."